Editor's note: Arachnophonia is a regular feature on our blog where members of the UR community can share their thoughts about resources from the Parsons Music Library's collection.
All links included in these posts will take you to either the library catalog record for the item in question or to additional relevant information from around the web.
Today's installment of Arachnophonia is by student worker Elias (class of 2021) and features John Mayer's 2012 studio album Born and Raised. Thanks, Elias!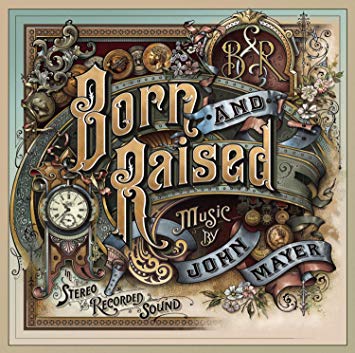 John Mayer, the egotistical, narcissistic, prodigious, reformed paradox of a musician is by far my favorite artist of all time. When people think of John Mayer, they typically think of him for one of two things: his iconic love songs or TMZ headlines articulating exactly how he broke Katy Perry's/Taylor Swift's/Kim Kardashian's/Jennifer Anniston's heart. Either way, I rarely see people appreciating his musical talent or his raw songwriting genius. There's a reason Eric Clapton calls him a "master" guitarist. And for me, there's no better example of this mastery than on his fifth studio album, Born and Raised.
You wouldn't guess it at first, Mayer often speaks in interviews about how his favorite type of music to write is blues. You get hints of this on sprinkled across his other hit albums, but Born and Raised is his real tribute to this passion. From first looking at the album art, it becomes apparent that this is no ordinary album from hit-machine John. There's no photo of Mayer trying to seem like he doesn't know his picture is being taken, and no angsty black and white filter over the whole image. No, Born and Raised sports old-fashioned text intertwined with clockwork, adorned with phrases such as "Music by John Mayer" and "Stereo Recorded Sound." No glitz or glam, no profile shots algorithmically calculated to get girls to pick up the tape. Just the title, and a little style to set the tone.
Now, the music. The tracks on this album are slow, gentle folk songs, with a Mayeresque vibe to them. It opens with "Queen of California," as Mayer immediately flexes his technical muscles with a flowing, articulated, methodical guitar riff cover almost the entire length of the song. It almost sounds like "Why Georgia" at first, but the album's themes sink in after a spell. A gentle, clean electric guitar accents the track with smooth bends which work alongside Mayer's voice to keep you interested.
Another highlight of the album comes with the fifth track, "Something Like Olivia." If you're still questioning Mayer's prowess on the guitar, just watch the music video on YouTube. The fact that he can keep this riff going effortlessly whilst singing is beyond me, and the studio version certainly displays his mastery well. The lyrics are repetitive yet meaningful, and the chorus is easy to sing along to. "Something Like Olivia" is about a girl, but it's not a love song. It's a jam.
Finally, we have the title track. "Born and Raised" is deservingly named after the album (or… vice versa?), as the simple chord progression leaves Mayer's voice at the forefront. A harmonica finishes out each chorus in lieu of a guitar solo, an ode to the unique blues/country rock theme of this album. Lyrically, "Born and Raised" is a strong track, telling the story of how he feels that life has passed him by, and how he no longer feels like he has dreams to work towards: "I still have dreams, they're not the same/They don't fly as high as they used to/I saw my friend, he's in my head/And he said, 'You don't remember me do you?'"
As a whole, Born and Raised is a break from Mayer's routine, and it feels like the first album he made more for himself than for the public. It's not a collection of hits, and it's not a collection of his best guitar playing. It's a collection of jams, and though he would continue his adventure into Americana with his next album, Paradise Valley, it was a testament to the kind of music Mayer wanted to make. If nothing else, it's a collection of good songs, and an album I think everyone should listen to.