Editor's Note: "Spider Sounds" invites members of the University of Richmond community to share their thoughts about items in the Parsons Music Library's collection. The links included will take you to the library catalog record for the item in question, or to additional relevant information.
Today's installment of "Spider Sounds" comes courtesy of Music Library Student worker, Liza (class of 2017) and features indie folk band Bon Iver's second album, "Bon Iver, Bon Iver". Thanks for contributing to Spider Sounds, Liza!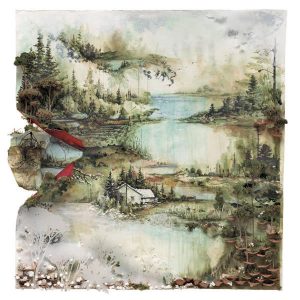 If you haven't heard of Bon Iver before, you can already get a feeling of their music with a glimpse at this album's cover artwork.
Bon Iver is an American indie folk band founded by the singer-songwriter Justin Vernon, who won the 2012 Grammy Award for Best New Artist and Best New Alternative Music Album for Bon Iver, Bon Iver.
Differentiating himself from the typical sounds of "folk," Vernon combined chamber pop with an edge to create his own sounds from scratch. His soulful voice remains a unique characteristic that no other singer sounds like; he evokes an earthy virtuosic voice that you can easily get lost in when listening to his lyrics.
The album is composed of 10 songs, each representing a place. In particular, "Holocene," is one of my favorite songs on the album because of its ability to trigger dozens of emotions within seconds. I would recommend listening to Bon Iver when you're in a "chill" and relaxed mood or even when you're studying, so come by the Parsons Music Library to check it out!