Editor's Note: "Spider Sounds" invites members of the University of Richmond community to share their thoughts about CDs (or other items in the Parsons Music Library's collection). The links included will take you to the library catalog record for the item in question, or to additional relevant information. Today's post is by KyungSun, one of Parsons Music Library's student workers and features the Broadway musical Wicked based on "The Wizard of Oz" and Gregory Maguire's literary reimagining of the story. The musical with music and lyrics by Stephen Schwartz premiered in 2003 and is still going strong on Broadway and on tour. Thanks, KyungSun!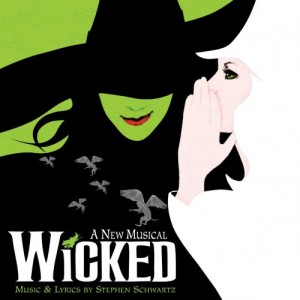 It's one thing to see Broadway or even claim you love live musical theater. But we all know that as artists or avid fans, we LOVE to sing along (or at least try to).
Wicked is one of my favorite musicals. I saw it twice, and teared up both times. Why? If you haven't seen it, it's more than cheesy story about friendship. It's also about the political manipulation, perception, and the power of language. Even more than that, Wicked has gotten me through some pretty tough times. If you haven't heard of the song "The Wizard and I," I highly recommend you listen or even better – sing it! – to find your inner confidence. The line, "My future is unlimited. And I've just had a vision almost like a prophecy. I know – it's truly crazy. And true, the vision's hazy. But I swear, someday there will be a celebration throughout Oz, that's all to do with me." This line reminds me to keep dreaming even when your own hometown is literally against you. If you've seen the beginning of The Wizard of Oz film, you'll know why this particular lyric is important. Sure, other songs like "Popular" aren't something we can (or should) sing as our life anthem, but it's so much fun to try out…in your own room. Be sure to check out the Parsons Music Library's extensive collection of your favorite musicals if you're ever in need of a sing your heart out moment!