by Gabby Kiser
Gabby Kiser is a junior from Williamsburg, Virginia majoring in English and minoring in History. This is her first summer with the Race & Racism Project. She is also the general manager of WDCE 90.1 FM, a design editor for The Messenger, and a Bunk content wrangler.
Over the years, the Messenger literary magazine has had its ups and downs on campus. Not only has it encountered numerous periods of disinterest from students; it's regularly been the target of a great amount of criticism. A lot of this criticism has condemned the magazine's lack of humor and, as one 1957 Collegian article put it, "nebulous stories and poetry." In 1960, for example, Collegian columnist Edie Graves called the average Messenger "a total loss" and begged for a change. Still, when the magazine became the satirical Messenger Lampoon in 1977, a number of students were incensed that the campus would be without a literary magazine, even for just a year. One Collegian article from 1955, though, takes the cake as the strangest statement I've discovered of what the Messenger is and should be.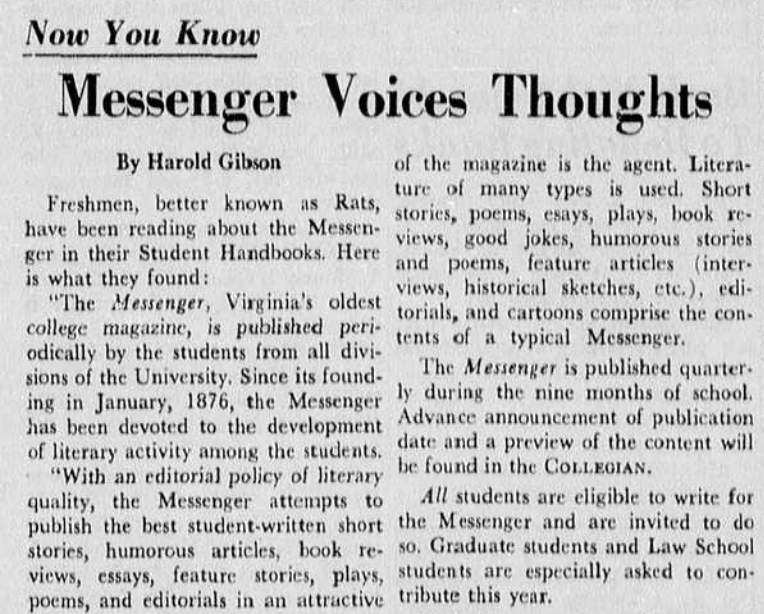 "Now You Know: Messenger Voices Thoughts" by Harold Gibson is framed as an explanation of a vague description of the Messenger found in Student Handbooks. Said description mentions the magazine's "editorial policy of literary quality" as its defining characteristic. Gibson takes it upon himself, then, to explain what "literary quality" means by delving into an argument of what counts as literary realism and attacking work that "approaches the vulgar just for the sake of the vulgar." The Messenger, he alleges, accepts none of this "pornographic trash." And though he assures readers that the Messenger isn't "high brow" and urges student participation, his article comes off as aggressive rather than welcoming.
Gibson's definition of the Messenger's literary quality as "appeal[ing] to a reader's sense of beauty, which shakes his mind loose from the fetters of stereotyped ideas and superficial concepts" seems misguided to me, as I've spent so much time this summer reading Messenger stories and poems weaponizing stereotypes and superficiality in their representation of people of color. Gibson can't be held wholly accountable for years of racist pieces, and I can't assume what kind of person he was, but I can't help questioning his judgement as he defines the Messenger's pledge to literary quality. Really, though, it's not about Gibson. His musings on realism placed him as a scapegoat of sorts for my frustration about the Messenger's racism. After I read this article so many times, Harold Gibson became a representative for decades of editorial staff that accepted pieces that contained racial slurs, featured one-dimensional racial caricatures, or were written by white students using black dialect for comedic effect, all while claiming the literature was of superior quality.
It's easy to say that times are different now, that these kinds of writing weren't viewed the way they are today, but that really doesn't cut it for me. The pieces are manifestations of a racist campus culture, and we can't look past the fact that they weren't questioned because the ideas they contained were enforced and encouraged by the rest of the school. The disdain for "pornographic trash," while a bit laughable, is understandable when considering the University's Baptist affiliation. Similarly, I realize now that I shouldn't have been so surprised when I first read a racial slur in the early Messenger because of the history of this country and this school. That doesn't mean I shouldn't be upset, though.
I can tell you how this tale of literary quality ends. The University itself ultimately took issue with the Messenger's contents. However, it wasn't because of racism, but actually over "pornographic trash." Well, if you'd consider swear words as such. The Messenger hasn't been sent to alumni or featured in the admissions office since the early 1990s because of the editorial staff's refusal to censor "four letter words." You can find two of the works that led to this here and here, both by Sunni McMillan of the Class of 1991.
The magazine's profile on campus has shrunk considerably since students argued over its merit in the Collegian, and I've never heard anybody say anything about what should or shouldn't be in it. Despite its diminished popularity, though, today's Messenger is the Messenger that I know and fell in love with as a freshman: student-created, uncensored, and inclusive. Would Harold Gibson approve?