by Shira Greer
Shira Greer is a rising sophomore from Fairfax, Virginia majoring in Political Science and minoring in Women, Gender, and Sexuality Studies. This is her first summer working with the Race & Racism Project. On campus she is also a Richmond Scholar, an Oliver Hill Scholar, a Peer Advisor and Mentor, and a member of the Executive Council for a Multicultural Space at the University.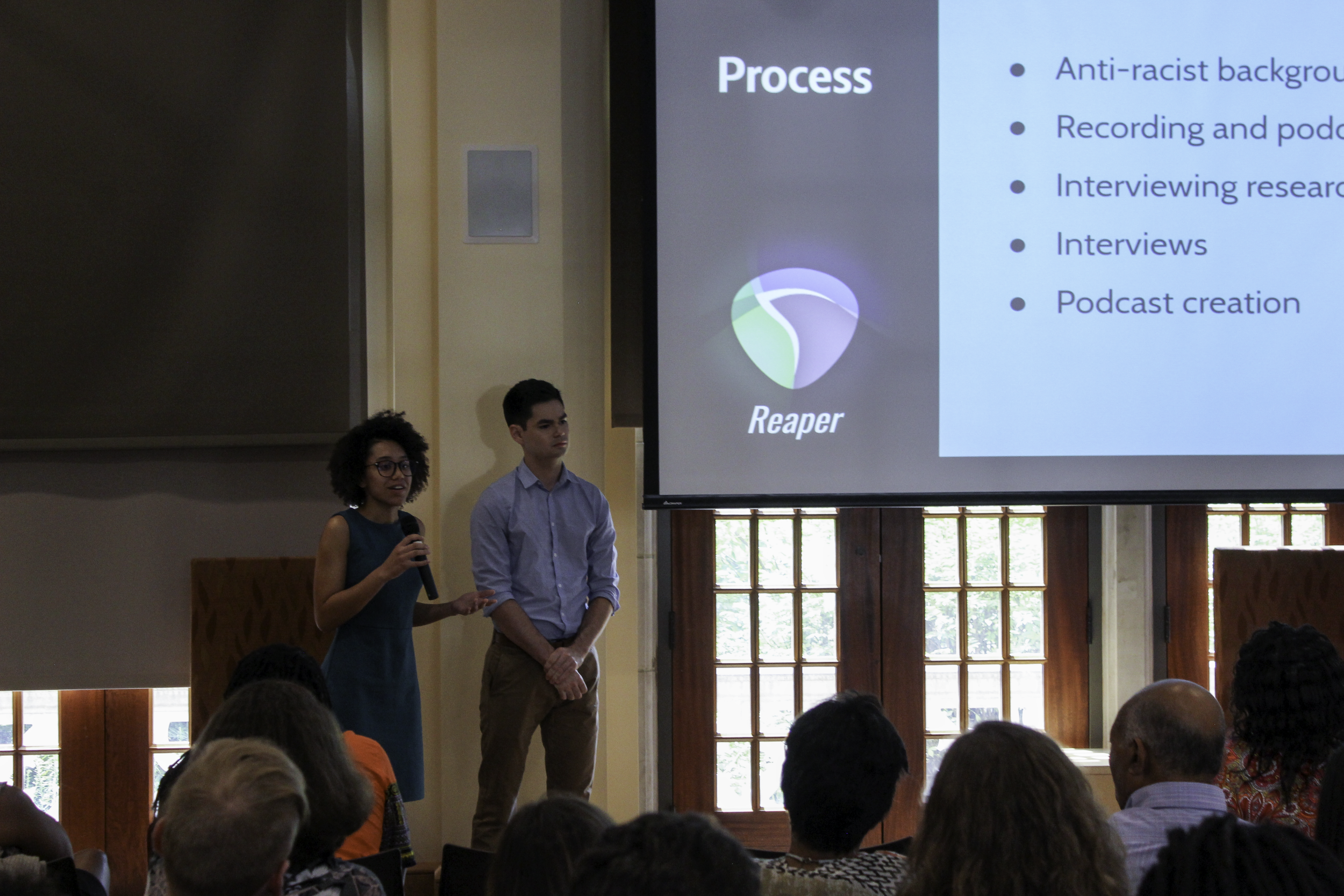 Now that my work this summer on the project is done, I can reflect on the experience of being on Team Oral History. At the start of the summer, I was somewhat apprehensive about my choice to join Team Oral History as opposed to Team Archive. I questioned whether I would be good at interviewing and had no clue how I would learn to create a podcast considering my limited exposure to the medium. However, I now can see how much I've learned through my work this summer.
While I was nervous before I began the process of crafting my interview questions and carrying out my interviews, I began to relax after conducting my first interview. I realized that I had created a solid list of questions with the rest of Team Oral History thanks to the help of our faculty mentors, and I came to understand that the interview was simply a conversation to find out more about the interviewee's time here. I also recognized how genuinely excited the alumni we were interviewing were to be a part of the project and to interact with current students. Once I finally realized that, I was much less nervous going into my next two interviews.
Once interviews were completed, it was time to move into creating my podcast, the culminating project of the summer for Team Oral History. From our meetings with Dr. Chioke I'Anson, an NPR contributor and VCU professor, I learned that telling a story is the heart of creating a podcast. With that in mind, I then mined the tapes from the three interviews I led and decided to use my interview with Dominic Finney as the material for my podcast. I chose this interview because I wanted to highlight the culture of complacency that Dominic discussed encountering during his time here. Hearing him talk about his experiences with this culture of complacency resonated with me, as I still feel it on campus today.
In order to turn the 75 minute interview into a 6 minute podcast, I had to leave out much of the interview that I would have liked to have included. Some of the other stories Dominic told during the interview were quite compelling, but ultimately didn't fit the story I thought was most important to tell in my podcast. For example, Dominic shared that his first mainstage role in the theatre department was that of a slave. While at the time Dominic was excited to have secured his first mainstage role, looking back on the experience Dominic acknowledged the discomfort he felt as well, as he was reticent to tell his family and friends what exactly his role in the production was. He also reflected on the palpable tension when the play was performed for a group of elementary schoolers, who were unable grasp the fact that the play was make-believe after Dominic's character was beaten offstage and came back bruised and bloodied. While I found this story telling of UR's culture, I left it out as I felt that it only tangentially demonstrated the culture of complacency Dominic and other students experienced on campus. Ultimately, I created my podcast using other vignettes that revealed more about UR's culture of complacency.
While I acquired valuable skills relating to interviewing and creating podcasts this summer, the most important thing I learned is perhaps best summarized in the advice Dominic gave to current students: don't sit in your complacency. Though this campus makes it hard, I think that if we care at all about the future of this school, we must work to bring about change that will make this institution a place where everyone feels like they are valued and belong here. There are constant opportunities to create space for those who are marginalized among us in our classes, clubs, and other organizations. Each one of us has the power to create change here. We must use it.