by Cory Schutter
Cory Schutter is a junior from Midlothian, Virginia. He is double majoring in Rhetoric and Communication Studies and Women, Gender and Sexuality Studies. He is a Bonner Scholar, a Center for Civic Engagement Ambassador, and a Student Coordinator at UR Downtown. He began his involvement with the Race & Racism Project in the summer of 2017, as an A&S Summer Fellow. This post was written as a part of Digital Memory & the Archive, a course offered in Fall 2017.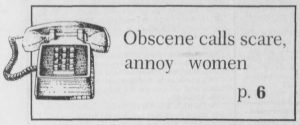 On February 23, 1984, Collegian staff writer Ginny Yoder broke a story on sexual harassment plaguing the University of Richmond: "Obscene: Women get phone calls." Residents in the Westhampton College dorms and University Forest Apartments had begun to receive obscene phone calls from unidentified callers. An epidemic of sexual harassment began spread from phone to phone around Westhampton College.
"It's traumatic for the girls," Campus Police Chief Robert C. Dillard told the Collegian. This trauma would haunt Westhampton College as obscene phone calls continued into the early 1990s.