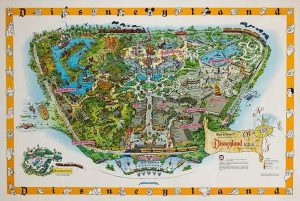 An orange border with cartoon characters surrounds the center of lush green vegetation, colorful attractions, and passageways. The pop of pink brightly labels each attraction with a name for its special Disney entertainment theme. This popular vintage 1958 fun map by cartographer Sam McKim was first sold as a souvenir to park goers at Disneyland through a promotion with Sunkist Orange Juice (Mousemaps). Given its vibrant colors, extravagant detail and minutia, this map still creates a sense of wonder around a destination designed to transport us from our ordinary existence to the happiest place on earth. McKim's map exemplifies the geographic imagination by allowing us to travel through a make-believe small American town to explore America's history and its future through various theme parks that make us have pride in America.  
Geographic imagination has a variety of meanings, including individual mental images and discussions about cultures, spaces, and differences (Sage Pub). Through geographic imagination people develop a sense of boundaries and a way to think about the relative importance of places and the relationships between "our" places and "other" places (Sage Pub).  Places on the "fun map", such as Frontierland and Tomorrowland, challenge Americans to think optimistically about how we prevailed in the past and how we can succeed in the future. The map, like the theme park, allows us to imagine Disney's vision of America as a land of opportunity where we can all find happiness, even if we know it isn't true.
In the 1950s, Americans needed to escape the tension of the Cold War and to be reassured that the American dream and its values still existed (Fernandez 2008). Disneyland maps allowed Americans to forget their worries and imagine their past and future in a glorious way. Disneyland contains a theme park devoted to Walt Disney's interpretation of America's history in the wild west, complete with cowboys and Native Americans. Moving towards the upper left hand of the fun map, "Frontierland" takes us back to 19th century America and the western movement to California — the location of Disneyland, built inside an orange (Frontierland). All the way to the top right of the map, Tomorrowland represents the future in science and  the space age (Tomorrowland). In 1957, America had announced that it would attempt to launch an artificial satellite into space, and two days later the Soviet Union announced the same (The Space Race 2010). America could imagine winning the race through the maps as the United States representing goodness over the U.S.S.R. representing evil. While examining across the map from left to right, Americans were given the opportunity to view America's past, present, and future through the comfort of rose colored glasses.
Disney Imagineers included a 100-acre parking lot on the map as an attraction to show its confidence in the future expansion of the park and the large numbers of people who would travel to visit. Disneyland is easily accessible for those coming from suburban California and just a few hours from San Diego and Los Angeles. The Imagineers used a legend as a symbol to assist in predicting future developments, police (lost and found) and first aid. Sam McKim's fun map brings science fiction into the mix to include elephants and large sailboats demonstrating the art of exaggeration and the popularity of science fiction during this time period.
Walt Disney claimed that "Disneyland will never be completed. It will continue to grow as long as there is imagination in the world" (Van Eaton Galleries). Sam McKim took a snapshot of an active day at Disneyland even though the space is constantly changing on a millisecond basis. The ever-changing and evolving landscape of Disneyland makes it the perfect place to map. As Dennis Wood says, maps do not evolve but the process of mapmaking constantly changes.
Sam McKim's 1958 fun map of Disneyland and the versions that followed were used as souvenirs and strategic marketing tools to lull families into returning to America's favorite family vacation destination. Starting with a map for funding, then maps for souvenirs and advertisements, and later for directions, Disney's Imagineers were masters of mapmaking. Disneyland maps are a continuing work of commercial art, helping Disney to earn profits and remain an American icon.
Works Cited
Disneyland Maps, www.mousemaps.com/MouseMaps/Introduction.html.
Fernández, Manuel. "Carl Barks and the Disney Comic Book: Unmasking the Myth of Modernity." The Journal of Popular Culture, Wiley/Blackwell (10.1111), 14 May 2008, onlinelibrary.wiley.com/doi/full/10.1111/j.1540-5931.2008.00534_2.x.  
"Frontierland." Frontierland | Disneyland Park, disneyland.disney.go.com/ca/disneyland/frontierland/.  
"Geographical Imagination." SAGE Knowledge, sk.sagepub.com/reference/geography/n477.xml.
"History of the Original 1953 Disneyland Presentation Map." Van Eaton Galleries, 13 May 2017, vegalleries.com/themap.
History.com Staff. "The Space Race." History.com, A&E Television Networks, 2010, www.history.com/topics/space-race.
"Tomorrowland." Tomorrowland | Disneyland Park, disneyland.disney.go.com/au/disneyland/tomorrowland/.  
Wood, Denis, and John Fels. The Power of Maps. Routledge, 1993.