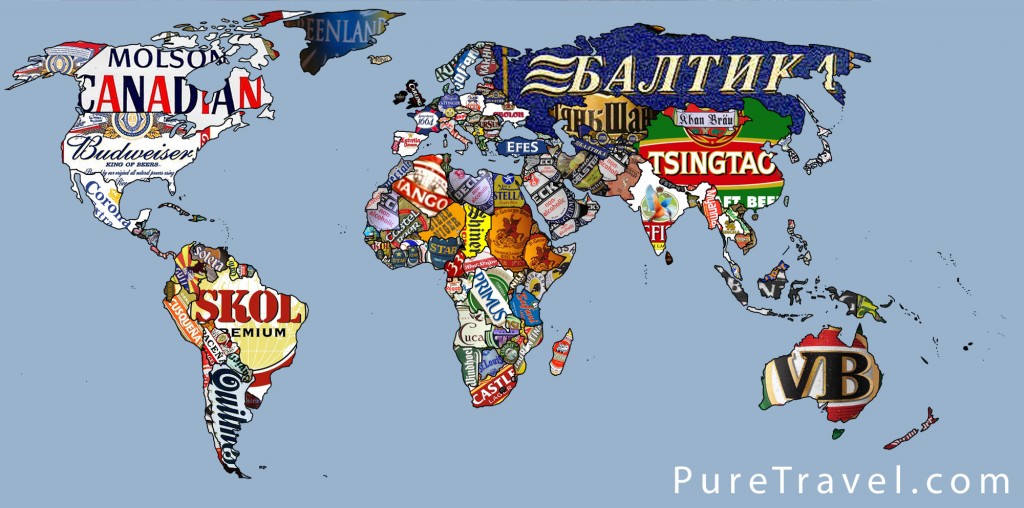 For thousands of years, beer has been used by mankind to temporarily break free from the rigidities of society. Yet beer has undoubtedly come to represent more than just a refreshing drink, it has progressed into a product of national identity. In some countries, beer has even become ingrained in the culture. For example, Budweiser can be found in the hands of hundreds of thousands of Americans every Sunday as fans cheer on their favorite NFL football team. In Europe, brewing companies have devoted billions of dollars to ensure that soccer fans identify themselves with their country's  beer. By using the logos of different breweries to represent different countries, this map effectively communicates the values and culture of each country. At the same time, however, the author is reducing these complex nations to brands that don't necessarily offer a fair representation of each nation's ideology, reminding us that maps are a product of human construct.
Through a careful arrangement of logos placed on a relatively standard projection, this map presents the argument that a country's power can expressed through the manipulation of its most popular beer brands. The use of contrasting beer logos  places emphasis on the distinction between large countries and small countries. In North America, the logos of "Molson Canadian", "Budweiser", and "Corona", dominate the continent because they are largest and easiest to read, while the logos of smaller countries in Central America are neglected and almost invisible. Molson, Budweiser, and Corona are also the most recognizable brands for an American audience (the intended audience). Viewers of the map would likely consider the brands they recognize as relevant to be more important than those that they view as irrelevant. Through the manipulation of the size of the logos and their popularity, the cartographer speaks to the power and relevance of each country.
In South America, the logo of "Skol Premium" immediately pops out due too its large font and offset color. The fact that a brand such as Skol plays such a central role in the visual representation of this map is an important novelty. The majority audience of this map has likely never tried a Skol, even though it appears to be such a big part of the world map.  This reminds viewers that just because global cartography and modern technology makes the world seem smaller and more connected, many parts of South American  culture still fail to transcend the national boundaries. The contrast of logos are used to represent the boarders on this map, which offers the idea that culture played a more important role than political boundary in this cartographer's aesthetic interpretation of the world.
In contrast to the map of South America, the maps of Africa and Europe represent the way that cultures can reach beyond their cartographic boarders. For example, Becks, a German beer, is seen as the beer of choice for several African and Middle Eastern countries. Using cultural imperialism Becks marketed themselves to more than one country. The cartographer's choice to allow Becks to represent more than one country unfairly simplifies each of those countries specific cultures. By looking at this map, it would be easy for an individual to group together certain African countries because they share similar demographics, geographic, and taste in beer. This goes against the idea of Dennis Wood, which is that the audience cannot not know what really exists in a space on a map without physically being in that place themselves.  Another theme of Dennis Wood that becomes evident in this map of Africa is that of the relationship between the map and the cartographer. While I was not able to find the actual name of the cartographer, I learned that it was created by a logo company as a marketing effort to showcase their artistic skills. Some of these skills can be seen in the country of Madagascar, where the cartographers took advantage of its shape to make it into a beer bottle.
All in all, this map can be considered the product of human construction based on the idea that beer plays a central role in human culture and society. The marketing of beer has brought its cultural value to new heights. While the purpose of this map's creation was to advertise the skills of a logo company, it also allows us to see the world as a product of social construction. Mapping our different tastes in beer offers a view of the natural cultural boundaries of our world, rather than the boarders created by politics.
Citation: "Around the World in 80 Beers." Pure Travel. September 8, 2009. Accessed November 13, 2014. http://www.puretravel.com/blog/2009/09/08/around-the-world-in-80-beers/.