By Scott T. Allison and George R. Goethals
One popular genre of hero stories focuses on the tale of the buddy heroes.  These are heroes who pair up, enjoy great chemistry, display friendly friction, and perform heroic acts together that they could not perform individually.  Buddy hero stories have long graced the silver screen, television, and novels.  Examples include Bonnie and Clyde, Butch Cassidy and the Sundance Kid, Thelma and Louise, Starsky and Hutch, Cagney and Lacey, The Hardy Boys, Tango and Cash, and The Blues Brothers.  Buddy hero stories differ from hero-sidekick stories in that buddy heroes are equals with complementary skill sets.  With buddy heroes, there is no dominant star; each is a force, and working together they can produce magic.
In the performing arts, perhaps no pair of heroes was more dominant and more revered than the dance team of Fred Astaire and Ginger Rogers.  As with many buddy heroes, Astaire and Rogers were an unlikely pair.  Astaire was balding, less than handsome, and somewhat awkward as an actor.  His dancing, however, was poetry in motion, astonishing in its rhythm and technical virtuosity.
Ginger Rogers was beautiful, seductive, and comedic.  Her dancing was a notch below that of Astaire, but her playful coquettish style and natural charisma complemented him well.  Katherine Hepburn once observed, "He gives her class and she gives him sex."  Together, Astaire and Rogers were greater than the sum of their parts.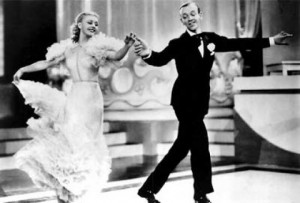 No other dance team could compare.
Fred Astaire and Ginger Rogers appeared in ten musical films together and revolutionized the musical film genre.  They dazzled audiences with their inventive flair.  Astaire was especially singled out for his skill and creativity on the dance floor.  Famed theater producer Jerome Robbins noted that "Astaire's dancing looks so simple, so disarming, so easy, yet the understructure, the way he sets the steps on, over or against the music, is so surprising and inventive." His perfectionism was legendary, yet he remained humble.  "I've never yet got anything 100% right," he said. "Still it's never as bad as I think it is."
Alastair Macaulay from the New York Times once wrote, "Dancing together, Astaire and Rogers expressed many of love's moods: courtship and seduction, repartee and responsiveness, teasing and challenge, the surprise of newfound harmony, the happy recapture of bygone romance, the giddy exhilaration of high spirits and intense mutual accord, the sense of a perfect balance of power, the tragedy of parting and, not least, the sense of love as role playing."
Fred Astaire himself acknowledged that Ginger Rogers was by far his best dance partner.  "After a while everyone else who danced with me looked wrong," he said.  "Ginger was brilliantly effective. She made everything work for her. Actually she made things very fine for both of us and she deserves most of the credit for our success."  Although Astaire was singled out more often for his dancing prowess, many people appreciated Rogers' great talent and believed she was underrated.  Said one fan, "Remember, Ginger Rogers did everything that Fred Astaire did, backwards and on high heels."
Below is a collage of dance routines performed by the great Fred Astaire and Ginger Rogers.