By Khaela Sanchez
As a senior in high school, I found myself desperately looking for any opportunity that would enable me to go on free trips to escape the county in which I live, Arlington County, Virginia. At my school, all seniors must complete a massive yearlong project intended to make them branch out, get involved in the community, and pursue something they are passionate about.
I decided to do my project on photography. My central objective as a photographer was to explore cities and find the beauty in chaos that exists within them. One day, I was walking through the halls of my newly renovated high school when I saw a flier to go on a trip to New York where we would attend a conference at the United Nations Headquarters. My naïve self only had eyes for the awesome opportunity of doing a photo-walk around Times Square. Little did I know I would be leaving that city with a new perspective on society.
There was one particular speaker named, Deepa Willingham, who delivered a quote that will forever stay with me. It went along the lines of, "You can teach a man to fish, you feed a man for a lifetime. But if you teach a girl, you teach a community". The moral of this quote is that educated men typically leave home to pursue a career, while women stay at home. If an educated woman were to stay home, it could be the start of endless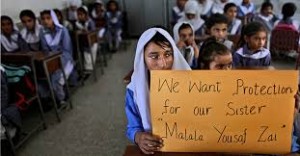 possibilities. She could teach her kids as well as the other community members. Inspired by this idea, I decided to do more research on inspirational women such as Deepa Willingham. That is when I stumbled upon Malala Yousafzai.
Malala Yousafzai is the youngest person to ever receive a Nobel Prize. She was born on July 12, 1997. Yousafzai is known for advocating human rights and education in general but especially for women's rights to education. She lived in Swat Valley, located in the Khyber Pakhtunkhwa province of northwest Pakistan. This area was an extremely dangerous and problematic part of Pakistan, as the local Taliban would go to any lengths to prohibit girls from attending school.
Rising up from Taliban oppression, Yousafzai wanted to let the world know of this injustice. She wrote a blog revealing what life is like under Taliban occupation, their threats to control the country, and her views on education for the girls in Swat Valley. As you would expect, Yousafzai's popularity grew, even leading to interviews and a documentary film about her life. The Taliban took notice.
On October 9, 2012, a gunman shot Yousafzai three times as she was boarding her school bus. She was in critical condition but luckily she survived. Despite Pakistan's effort to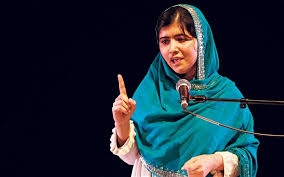 protect Yousafzai and her family, the Taliban persisted in making assassination threats. In a way, these murderous threats helped give visibility to the issues that Yousafzai promoted.
One positive consequence of Yousafzai's long, painful activism was a United Nations' petition demanding  all children to be in school by the end of 2015. As a result, Pakistan ratified their first Right to Education Bill. Yousafzai knew there was great danger in speaking out for her beliefs, but this did not deter her. Today, she delivers speeches worldwide, writes blogs, and oversees the Malala Education Foundation, which enables girls living in poverty to attend school.
Malala Yousafzai is very young, yet it seems that she has already lived through a lifetime of hero's journeys. Let it be known that this is only the start of her work to improve people's lives. Malala Yousafzai still has a bright future, one that will be devoted to standing up for people's rights. She has proven that she is willing to pay any price and make any sacrifice to make the world better. In my life I can only hope to obtain a fraction of Malala's greatness.
– – – – – – – – – – – – – – – – – –