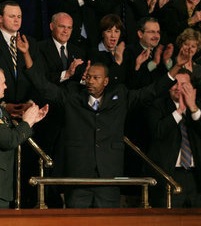 By Scott T. Allison and George R. Goethals
Most of the exceptional individuals profiled in this blog are heroes who devoted their lives to making the world a better place.  But not all heroes follow this same journey.  Some heroes are ordinary human beings who perform a single heroic act in response to an extraordinary situation.  They are compelled to make a quick decision to help someone at the risk of great injury to themselves.  In short, these individuals encounter a heroic moment, and they rise to the occasion by doing the right thing.
Recently, two men have seized the heroic moment in especially dramatic fashion, and we are pleased to give them the attention and accolades they deserve.  The first man is Wesley Autrey, who recently was waiting on a New York subway platform with his two young daughters, age 4 and 6.  Standing beside them was a 19 year-old film student named Cameron Hollopeter, a complete stranger to the Autrey family.  Suddenly, Hollopeter began having a seizure.  Autrey went to assist him, but the writhing young man fell onto the tracks.  Autrey looked up and saw an oncoming train barreling toward the stricken man.
Autrey found himself in a heroic moment.  There wasn't enough time to pull Hollopeter to safety.  With two young daughters, Autrey could have easily and blamelessly done nothing.  But Autrey did the extraordinary:  He jumped onto the tracks, lay on top of Hollopeter between the tracks to protect him, and got as low as possible while five train cars rumbled over the two men.  Inches separated Autrey from certain death.
"I don't feel like I did something spectacular," said Autrey.  "I just saw someone who needed help. I did what I felt was right."  New York City Mayor Michael Bloomberg presented him with the Bronze Medallion, New York City's highest award for exceptional citizenship and outstanding achievement.
Our second hero who found himself in a heroic moment is Dave Hartsock, a skydiving instructor from Texas.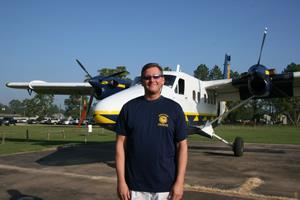 One day in March of 2010, Hartsock was taking Shirley Dygert on her first skydive.  During their descent, both her main chute and emergency chute failed to deploy properly.  Hartsock grabbed onto Dygert, tried unsuccessfully to help her, and then made a remarkable decision just seconds before impact with the ground.  To protect Dygert from the full force of the impact, Hartsock chose to position his own body beneath Dygert's.  In short, he used his own body to break her fall.
Hartsock's plan worked; Dygert was injured in the fall but is well on the way to a full recovery.  Because he bore the brunt of the impact, Hartsock unfortunately sustained devastating injuries.  The impact crushed his vertebrae, and he is now paralyzed from the neck down.  As with subway hero Autrey, Hartsock downplayed his gallant action.  "I couldn't have lived with myself if anything had happened to her," he said.  "It was my job to protect her. I did what I had to do, the only thing to do."
The split-second heroic decisions of Autrey and Hartsock are just as impressive as any heroic actions we've featured in this blog.  When rare and dangerous situations arise that require immediate action, most people understandably freeze and fail to act.  Fortunately, there are exceptional people among us who, under desperate circumstances when lives are at stake, demonstrate the noblest qualities of humanity.  We'd like to believe that Autrey and Hartsock are modern-day Nathan Hales in their use and promotion of a powerful heroic script than any one of us can follow if the situation is right.  Today we salute and honor their remarkable actions.
Below Wesley Autrey describes his heroic act to David Letterman.