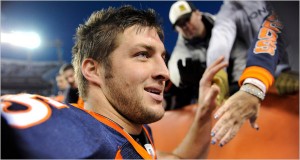 By Scott T. Allison and George R. Goethals
Heroes usually don't appear or disappear instantly.  Like buildings in an inner city, heroes are either being constructed or torn down.  People who enjoy a rising trajectory of accomplishment and fame are said to be trending upward toward heroism.  Fading heroes are said to be trending downward.  In earlier blog posts, we noted that Lady Gaga and Woodrow Wilson are examples are individuals who are trending upward and downward, respectively.
In the sports world, a couple of athletes appear to be trending favorably toward heroism.  A fascinating story is that of Tim Tebow, quarterback of the Denver Broncos, who is emerging as one of the most unexpected heroes in the National Football League.  When this current football season began, Tebow's slow unorthodox throwing motion and frequent erratic tosses reduced him to a near-laughingstock of the NFL.  Very few people believed that he could succeed as a professional quarterback.
Tebow is somehow defying the odds.  He sat on the Broncos' bench to begin the season and it appeared unlikely he would see any playing time.  But with the Broncos struggling to win games, fans began to chant his name, imploring Denver's coach to give Tebow a chance.  On October 9th, late in a game in which the Broncos were trailing badly, Denver's coach sent in Tebow.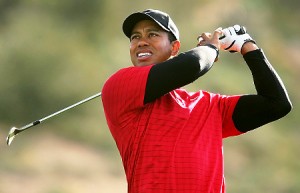 He fell just short of singlehandedly winning the game.  Since that time, Tebow has engineered a series of unlikely, come-from-behind wins.  His powerful running ability, coupled with improved accuracy in his throwing, has endeared him to fans and teammates.  He also demonstrates quiet, inspired leadership.  Only time will tell if Tebow's ascendancy to near-heroism continues into the NFL post-season.
Tiger Woods is also a unique story.  Earlier we blogged about Tiger's fall from grace.   Throughout 2009 and 2010, his widely-publicized extra-marital affairs and possible sex addiction led to severe condemnations about his character.  Tiger's leg injuries compromised his golf game and compounded his miseries.  He went from being the most dominant player in golf history to a complete non-factor in the golf world.
But over the past several weeks, Tiger Woods has become a changed man both on and off the golf course.   His knee and achillees heel are finally healthy.  On the course, Tiger is once again making spectacular shots and holing crucial putts.  He secured the winning point in the recent President's Cup and won a golf tournament after a 2-year dry spell.  Perhaps most tellingly, Tiger appears happy and centered as a person.  Once aloof, Tiger has warmed up to the media and to his fellow competitors on the golf tour.  He has shed his inner-demons.  The fallen hero is now rising again.
Heroism is often in a state of flux.  A hero today is a goat or villain tomorrow, particularly in the sports world.  Tiger and Tebow may continue to enjoy success and savor the taste of heroic status.  Or they may plummet back to earth.  Such are the vicissitudes of heroism.  But today, in December of 2011, these two individuals are trending upward toward heroism.  We look forward to following their future trajectories.