by Alejandro Rodríguez Muñoz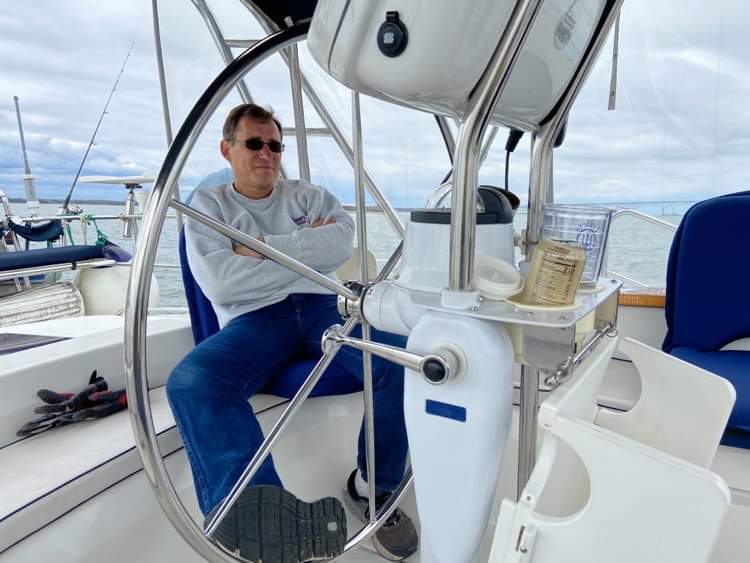 My host father, David Duny, works as a part-time harbormaster for the city of Annapolis. Like many Americans, his life changed when the coronavirus arrived. He's now working for the city's Office of Emergency Management [https://www.annapolis.gov/368/About-Us], which coordinates disaster response and recovery at a local level.
"They handle floods, fires, mass shootings, and health issues," he says. "Like COVID-19."
Several days a week, Duny leaves the house and goes to work at the OEM call center. Once he's there, entering the building takes longer than it used to.
"We have to go through three key card entryways and sign a form that says we haven't been in contact with people who have coronavirus," he explains. "We have to declare we have no symptoms, and have our temperature taken." He usually works with one other person in the room, and they're both careful to stay six feet apart.
Emergency calls go straight to 911, but "I answer non-emergency calls that are put into the system," Duny says. People contact the OEM "to ask about coronavirus, to report violations. Anyone looking for clarifications about the stay-at-home order or reporting violations of the order can call the non-emergency line," he tells me. "That's not a fun job, but maybe it'll help people get through COVID-19."
Originally from Portsmouth, Virginia, Duny grew up "a Navy brat" and has been around boats his whole life. "I've been sailing since I was 12. I've owned three boats: 20-foot, 32-foot and now 42-foot. I am a licensed US Coast Guard Master. I also hold sailing and towing endorsements from the Coast Guard."
When the coronavirus hit Annapolis, the first thing he thought about was getting his boat ready: If a stay-at-home order was issued, he thought, we'd better be off on the water.
On the first of April, I helped Duny finish repairing his dinghy. We then drove it to Orchard Beach Marina to attach it to the back of his 40-foot boat. As we arrived, we heard noise coming from the dock—a running motor, an intermittent creak, and the sound of water constantly falling.
A houseboat moored in front of Duny's had sunk, and three workers from a local salvage company were in the process of pulling it off the muddy bottom. As Duny explained how boats are re-floated, I captured it on video (below). Raising it would cost the owner about $25,000 dollars, he said.
Two weeks later, at the dinner table, I told Duny and my host mom, Laura, that I planned to write about the boat that sank. Laura said it was a great idea, since the metaphor of a sunk boat surrounded by other boats floating is like our society during the coronavirus outbreak.
Duny and I looked at each other, amused. How so, I wondered.
These days, many people are losing a lot of money because of the global pandemic, Laura explained. Some are sinking while the rest remain afloat. It's sad.
But there's hope, she said: those who are doing well can help the ones who sank to re-float their boats.
We'll get through coronavirus together.
NOTE: At this writing, Maryland is still under a stay at home order.