By Jess Dankenbring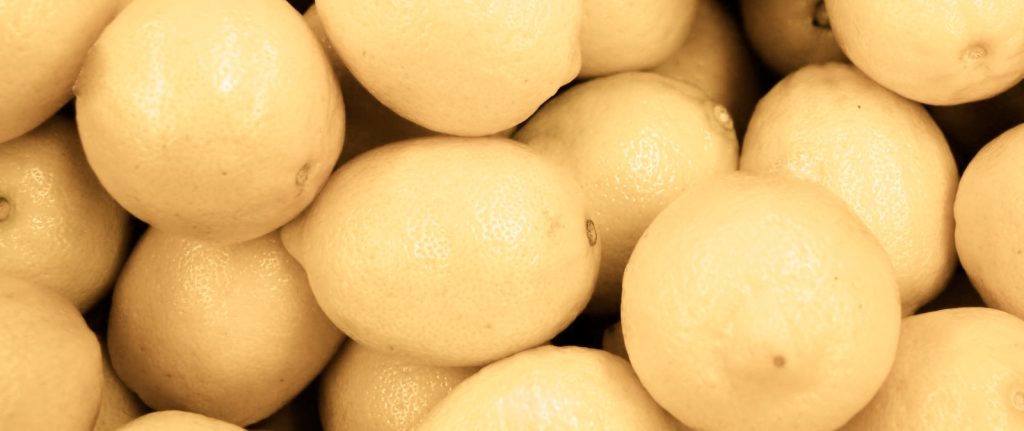 For some people in Highland Park, the only grocery store they know is a mini-mart. When there is a greater supply of chips and Ramen than produce, that's what you tend to buy. When Maggie and I ventured into this grocery desert, we expected spikes in prices and aisles of nothing but junk food. But it turns out that the greatest lack is selection.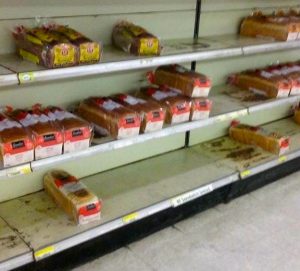 You watch little children walk through these stores, they reach for the bag of Cheetos or a Ring Pop. And teens outside these express marts usually have a bottle of soda and junk food snack in their hands. We encountered one mom inside the S&K Supermarket with a small basket filled to the brim—some of it was bags of chips and processed food, but there were also a few potatoes and packaged meats.
In Highland Park, there is no true grocery store: No Kroger or Food Lion or ALDI. The "grocery store" that we walk into first has four short aisles. One eight-ounce container of Gerber baby cereal sits on the top shelf. The top of its plastic container has gathered weeks, if not months, of dust; a tiny sticker on top announces its price: $3.89. Inside a small refrigerator are little baskets of produce. Nine lemons sit next to three large oranges. One lonely head of cabbage sits on the bottom shelf.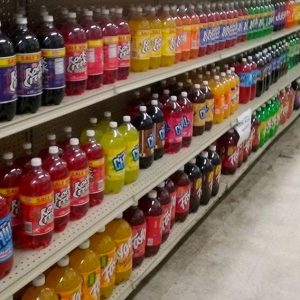 Maggie and I wander up and down the tiny aisles of Six Points Express Mart, which is just down the street from the larger S&K Supermarket in Highland Park. These are the two main supermarkets in the area. When Maggie went back to create a map of the nearest supermarkets, every large chain store fell outside of the boundaries that we have established for Highland Park. In a neighborhood where most individuals walk or ride the bus, it is too expensive and time-consuming to make a two-mile round trip for groceries.
We settle on purchasing some Funyuns and soda. But when we reach the counter we are politely told there is a $5 purchase minimum for debit cards. I scramble for something near the counter, but the only things within reach are weed-smelling incense and air heads. I think practically: What could I use for dinner tonight? Lemons! But when I glance back at that tiny refrigerator, it feels wrong to take a few of their limited lemons when I know that Kroger has mountains of them. I don't even know how often this mini-mart receives deliveries. So we grab more junk food—packages of snack cakes and a bag of Cheetos.
We moved on to the slightly larger S&K Supermarket, which is .1 miles, or just four short blocks, away. It is at least twice the size and has a wider selection of meat and produce. And by "meat selection" I mean liverwurst, imitation crab, and the worst cuts of beef (the kind that are barely good enough for a stew). The bread aisle is barren and the soda aisle, along with most other aisles, is 85% off brand.
When it comes to shampoo and feminine products, you have no more than two choices. And nothing is in bulk. The biggest pack of pads is about a dozen, which most women will tell you won't even get you through a month. You walk into Kroger and there are dozens to select from, all on some sort of markdown.
In a neighborhood that struggles as a food desert, we naturally worry about how kids are faring. Overby-Sheppard Elementary School provides some insight. In this school of over 400 students, 88 percent of the kids qualify for free or reduced-price lunches. Not only does that percentage speak to the poverty in the area, but it also speaks to the struggle that families face in feeding their children and themselves. That number is so high that the school (and actually all of Richmond Public Schools) provides free breakfast and lunch to over 20,000 students as part of the Community Eligibility Provision, a federal program.
The Virginia Summer Meals for Kids program helps provide food to those same children who would normally receive free or reduced-price meals during the school year. It can be very difficult for parents to maintain a nutritious diet and stretch their dollars during the summer months. Various community locations participate in the program, including churches, camps, parks and playgrounds.
In a year-long pilot program, Overby-Sheppard is one of eight schools to offer free meals to take home in the evenings, on the weekend, and for extended school breaks. This two-year program seeks to end childhood hunger in various Virginia school districts, and is helping to mitigate a devastating food desert.
---
For more updates on our walking team, follow @urhighlandpark on Instagram and track #UREdenWalkers.