By Kevin Johnson
On Dec 15, 1949, an unnamed city official, with little outward ceremony, set fire to Trolley Car 408, the last trolley car in Richmond. The car took more than an hour to catch fire, as if unwilling to let go of the good old days. It was the end of an era that had begun in 1886, when inventor Frank Sprague designed an electric trolley system for Richmond that was later replicated in 110 cities across the U.S. and around the world.
Those streetcars made Highland Park, already a bastion of the white upper classes, one of the hottest addresses in the city.
"The trolley was a massive success," wrote Harry Kollatz, Jr., in a 2012 article for Richmond Magazine. "Elaborate amusement centers were built . . . at the end of highly traveled lines, and residential areas sprouted and blossomed quicker than ever. Alluring advertisements promoted the newly-annexed Highland Park's open air and its convenience, with a less-than-15-minute ride by trolley to Seventh and Broad streets."
Yet after World War II, Richmond city fathers envisioned something even better: an intricate network of bus routes that would connect Highland Park, one of the wealthiest neighborhoods in Richmond, with downtown department stores, Carytown, and the rapidly expanding suburbs west of the city. No longer needed in the era of sleek, comfortable buses, the city's streetcars were to be systematically destroyed.
Few imagined on that cold December morning, as flames engulfed Car 408, that they were condemning Highland Park, with its stately homes and wide boulevards, to encroaching poverty, blight, and a transportation vacuum that went largely unfilled to this day.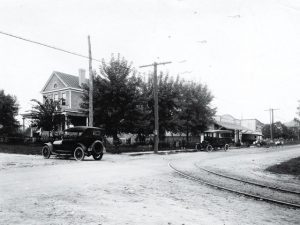 The trolley lines in Highland Park, circa 1930. Photo courtesy of the Cook collection.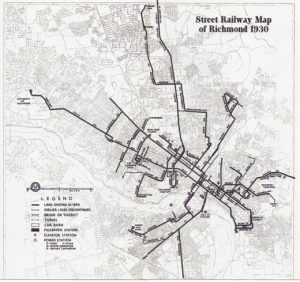 A map of the greater Richmond area's trolley lines at the trolley's peak, 1930.
According to John Moeser of UR's Bonner Center, it was the 1954 U.S. Supreme Court decision in "Brown versus Board of Education" that eventually placed kids from poor black neighborhoods in Highland Park schools, and prompted the mass exodus of white residents from North Side neighborhoods to the west end of the city in the 1950s and 60s.
Property values plummeted, city services were diverted elsewhere, and the area went into a steep decline that has gone on for nearly 50 years. Inexorably, poverty crept in like a dust cloud.
Then came the the crash of the U.S. economy in 2008, which hit Highland Park with a wave of foreclosures, evictions, lost jobs, and homelessness. For local residents struggling to recover from the recession and make ends meet, just getting around—to a job, to the bank, to the grocery store—has been a daunting challenge.
 A map of city bus routes in the neighborhood (below) shows a very light footprint. One exception is Bus Route 34, the last local route to be converted from streetcars to buses in the 1940s. For residents of Highland Park, this is their lifeline.
To understand their experience, I rode Bus 34 one afternoon after I got off work downtown. It was rush hour, the bus was overcrowded, but the biggest challenge I noticed was the infrequency of bus stops in Highland Park. Time was also an issue, as the round trip from Broad Street to Highland Park and back took nearly an hour and a half—a grueling commute that would cause problems for anyone who works odd hours or has children to pick up from school. This trip opened my eyes to the daily reality of people who have no choice but to rely on a system that has shunned the area where they live.
The demise of the trolleys—and the woefully inadequate bus routes that took their place—has left a hole in the lives of people in Highland Park. One can only wonder how they, and their neighborhood, would have flourished if they'd had access to a reliable public transportation system.
---
For more updates on our walking team, follow @urhighlandpark on Instagram and track #UREdenWalkers.