By Maggie Latimer
On the corner of East Brookland Park Boulevard and 2nd Avenue, nestled between Six Points Express Mart and a dry cleaner's shop, stands a large, sandy brick building.  Look closely and you may see the faint imprint of lettering left on the front door, detailing the bank's hours of operation. Those hours are now obsolete.
As of March 31, this Bank of America, the last bank in Highland Park, was permanently closed.  All that's left is a small front vestibule with just enough space for an ATM.  There's no word yet on whether this ATM will remain, although people are hoping.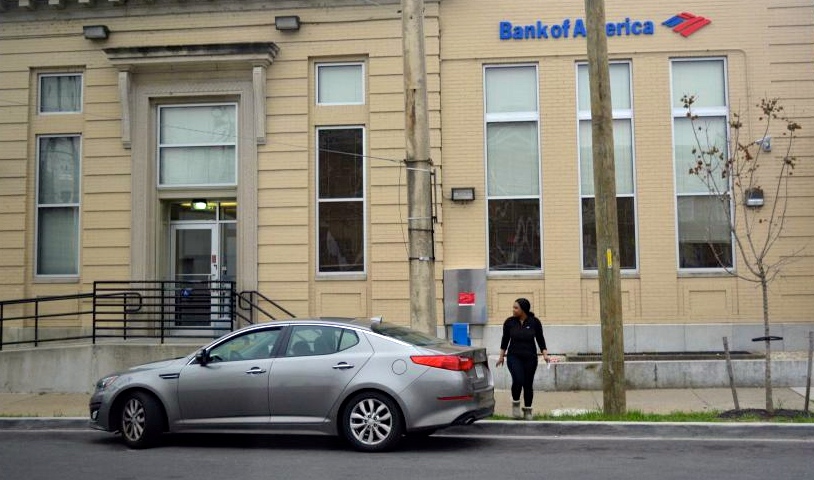 It's a familiar story.  As many other major U.S. banks have done in recent years, Bank of America is closing hundreds of locations, citing the increase in online banking and implementation of ATMs that can process deposits.
Earlier this year, Highland Park resident and 6th district Richmond City Councilwoman Ellen Robertson rallied with local businesses, called an emergency neighborhood meeting, and even met with Bank of America executives to discuss keeping the branch open, but to no avail.  In the end, the bank offered to keep an ATM at the location – a compromise of sorts.  No machine, however, can offer the same serves that a fully staffed financial center could, including cashing paychecks, opening savings accounts, making loans, dispensing financial advice, and generally assisting customers.
Highland Park has become a kind of financial desert, leaving the gate open for payday lenders or check cashing centers to come in.  These kinds of services, which often prey on low-income communities and carry high interest rates, can suck customers into debt cycles and destabilize communities. With some struggling to raise their families on less than $37,000 a year, this shutdown could spell trouble for the neighborhood.
Jess, Kevin, and I sit across the street on the sidewalk and observe nearly a dozen people walk into the bank over the course of about 20 minutes.  They bypass ribbons of broken yellow caution tape to swipe into the secure storefront with bank cards.  We stop a man as he walks out and ask him what he knows about the closure.  He's lived in Highland Park for nearly two decades.
"They were supposed to stay open until September, but they closed early," he says. "I guess they weren't making enough money."  This excuse seems a bit hard to believe as we watch yet another customer swipe in to use the ATM.

Interactive map showing the distance to walk-in banks from the former Bank of America financial center. Cartographer: Maggie Latimer.
View larger map
Across from the empty building, once-abandoned storefronts are gearing up for major renovation, volunteers paint a mural inside a new youth center set to open in a few weeks, and the newly refurbished Highland Park Senior Center overlooks a $1.2 million traffic circle installed last year.
Most Highland Park residents are not unfamiliar with closed storefronts. But in the midst of all this revitalization, seeing the bank go now is especially bitter. A passerby hears our conversation and chimes in that her sister now has to go to Lakeside, some three miles away and more than an hour long bus ride, to take care of her banking.
"That's a long walk," I say.  She knows it is, but simply shrugs. What can you do?
---
For more updates on our walking team, follow @urhighlandpark on Instagram and track #UREdenWalkers.