By Brooke Warner
On most sunny days, Dorothy Wicther and her son Kyle can be found sitting in old lawn chairs outside Dorothy's trailer. They don't talk much. They are tired. Their eyes follow us from the moment we arrive at the trailer park and don't leave us until our car pulls away from our makeshift gravel parking space.
Everyone stares. We do not fit in here. On Jeff Davis Highway, south of Hull Street, we have come to Rudd's Trailer Park.
Jefferson Davis corridor is characterized by a heavy industrial presence mixed with older commercial and residential real estate, including trailer parks.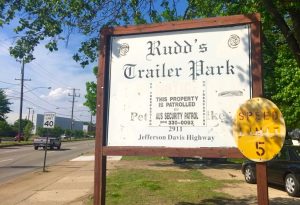 Rudd's is one of the largest, and most run-down, of Richmond's nine parks. Trailers here, which rent for about  400 dollars a month, are within reach of low-income families. In Jeff Davis, this means poor whites, African Americans and Latinos.
Rudd's has a large Hispanic community, which came under pressure when the City of Richmond began to crack down on housing inspections and condemnations about a year and a half ago. According to NBC12, at least 20 homes were condemned at Rudd's, and the occupants of 10 of them were evicted. Many families were left homeless, and those who remained lived in fear of losing their homes. 
One of the first people affected was Kyle Wicther. A former resident of Rudd's, his trailer was one of the first flagged for violations.
Recalling all this, he shook his head. "You try to fix it and they still run you off, man."
Kyle's mother Dorothy moved to Rudd's about four years ago, to a trailer across the street from Kyle's. When I asked why she chose Rudd's, she smiled a one-tooth smile and gave a one-word answer: "Cheap." 
Her beige trailer shows noticeable signs of damage. A stuffed animal, of indeterminate species, adorns a birdhouse out front. 
 Although the Wichters are African-American and downplay the Hispanic presence at Rudd's, most of the trailers we saw were home to Latinos. And when the city cracked down, Hispanics claimed that officials targeted them unfairly. Thirty-two people from mostly Latino families filed a federal lawsuit against the City of Richmond and its building officials.
According to NBC12, the lawsuit said the city violated civil rights laws by not providing translators to help Rudd's Hispanic residents understand long and complicated legal documents in English. There were also claims of intimidation by armed police officers, threats to condemn homes or bring criminal charges. Many undocumented families fled their residences, spooked by just hearing of the police's presence in the trailer park, said Father Jack Podsiadlo of Sacred Heart Church, which serves the local Hispanic community.
City officials responded by citing hundreds of safety violations in the trailer park. But the plaintiffs' lawsuit claimed that even when families fixed the violations, spending thousands of dollars, homes were still condemned and families left homeless. 
The discrimination lawsuit was settled in May 2016, with the city required to pay an additional $30,000 in damages, conduct community outreach, reimburse residents for home repairs, hire a "fair housing compliance officer" and establish a nondiscrimination policy, according to Richmond Magazine. It is unclear whether some, or any, of these sanctions have come to fruition. 
The code enforcement itself had little impact. Over 100 mobile homes were operational before the enforcement, but the number is around 70 today due to the mass exodus of people, said previous owner Ronnie Soffee to the Richmond Free Press.
That drove rents higher, Podsiadlo said. The purpose of the condemnations was to gentrify the area, but it had the effect of removing affordable housing.
The gentrification is part of a larger revitalization plan to breathe new life into the Jefferson Davis Corridor. (Read about revitalization efforts here.) Old warehouses are being converted to lofts or public housing, with rents far beyond what trailer park residents can afford. To qualify, a renter must also be a citizen of the United States.
Although Jefferson Davis Corridor has seen economic improvements in recent years, many of the benefits have yet to trickle down to its poorest residents. Kyle and Dorothy haven't noticed any changes in the area.
The poverty rate in the area targeted for gentrification was at 22.7 percent in 2015, more than three and a half times as high as the countywide rate of 6.4 percent, according to the Richmond Times-Dispatch. Among children under 18, that number is even higher at 31.2 percent. At $33,000, the median household income in this area is less than half of that for Chesterfield as a whole.
Those who live in the north side of Richmond have what they need there and have no reason to travel on Jefferson Davis Highway.
"They don't care about the situation in the Southside because it doesn't touch their lives," Podsiadlo said. "It doesn't influence them."
Of the people sitting outside on a nice spring day, few are actually residents of Rudd's. One man, a former resident with a Southern accent so thick that I couldn't fully understand him, grew visibly red as he began to shout about how the owners never did anything to help them.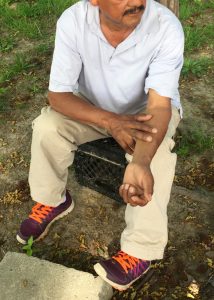 Behind him sat a middle-aged Hispanic man on an upside-down black crate (right). Cruz S., an undocumented immigrant from Mexico, had lived in Rudd's for 15 years and worked maintenance for the trailer park for six years. He spoke so gently, in Spanish, that we had to sit on the pavement next to him to hear.
When Rudd's was sold at auction in March (for $371,000, a fraction of the land's assessed value of $2.46 million), the new owner hired another morenito, little tan person, to take Cruz's job. Without a job, Cruz lost his trailer. Now, he takes odd jobs in construction, but without a car it's hard for him to travel to Norfolk where most construction jobs are. There is no homeless shelter in Chesterfield County.
Another complication is that the government is now denying work permits to undocumented immigrants. "He won't even give us a chance," Cruz said of U.S. President Donald Trump.
Cruz is alone in his adopted country. The rest of his family moved back to Mexico between five and eight years ago, minus a son who died in New Jersey. He was welcomed by the Hispanic community at Rudd's, but many of his friends were now moving away because they were scared of inspection and deportation.
When we asked about his future, Cruz looked up from wringing his strong, callused hands and gave a sad smile. Quien sabe? he said. 
"Who knows?"