The Beatles' Sgt. Pepper's Lonely Hearts Club Band album was released on June 1, 1967 in the UK and on June 2, 1967 in the US. It became the soundtrack for the fabled "Summer of Love" both influencing and reflecting the flower powered youth culture of the time, but its appeal has proven to be timeless.
The Beatles stopped touring in August of 1966, and took some time off. The group reconvened in November of that year and spent over 400 hours in the studio between November 1966 and April 1967 completing the album. (This was a far cry from their first foray into EMI Studios to record their first album in 1963 — that entire album was recorded in less than 24 hours!) This studio time led to all sorts of interesting musical experimentation and since the group had decided they were done with touring, there was no need to worry about whether the songs could be produced live on stage. The album as a whole is a fascinating almalgamation of harmonium, harpsichord, brass band, fairground noises, harp, psychedelia, Leslie speaker tweaking, multi-tracking, tape loops, full orchestra, crashing apocalyptic piano chords, dog whistles and more. The Beatles' musical ideas required lots of technical innovation from producer George Martin and studio engineers.
The eclectic mix of songs was loosely held together by the "concept" of a fictional Edwardian alter-ego Sgt. Pepper Band and the songs are wonderfully joyful. From the psychedelic marching band music that introduces us to Sgt. Pepper's Lonely Hearts Club Band, to the psychedelic imagery of "Lucy in the Sky With Diamonds" ( title inspired by a drawing by John Lennon's young son, Julian), to the music hall whimsy of McCartney's "When I'm Sixty-Four", to the spiritual tone of Harrison's sitar-laced "Within You Without You", to the amazing shifting tones, full orchestral crescendo and avant garde surrealism of "A Day In The Life" (one of the greatest ever Lennon/McCartney collaborations in this author's opinion), there is much to enjoy, right through to the startling tape loop ending inserted into the run-out groove of the original LPs (and included on CD reissues if you wait for it). The Beatles drew inspiration from varied sources like an 1843 circus poster ("Being For The Benefit Of Mr. Kite"), a TV cornflakes commercial ("Good Morning, Good Morning"), news stories about runaway teens ("She's Leaving Home") or car accidents ("A Day in the Life").
There is just as much to enjoy in a perusal of the album art itself. The cover features a pop art inspired collage of various folks (famous and not so famous) that the Beatles chose as inspirational to them, elaborate gatefold sleeve packaging (with bonus cardboard mustaches and pseudo-military insignia in early pressings) and includes the lyrics to all of the songs printed on the back cover, something that had never been done before with a pop album.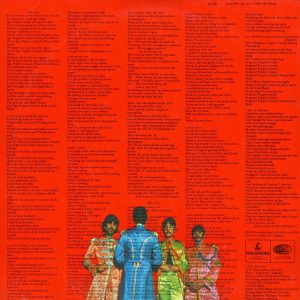 Sgt. Pepper signaled that pop & rock music could also be considered high art or even progressive social expression and more than just disposable entertainment. Musicologists cite Sgt. Pepper as continuing the musical maturation of the Beatles as a group that began with Revolver and Rubber Soul. It was also extremely influential on the development of progressive rock with its emphasis on studio experimentation, elaborate instrumentation and insistence on pushing the boundaries beyond conventional subject matter and track lengths. The album has been an influence on countless others since its release in 1967.
Here's a sampling of a few of (many) parody takeoffs on the iconic cover:
Frank Zappa and the Mothers of Invention – We're Only In It For The Money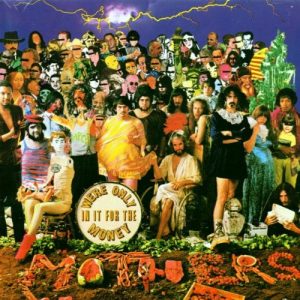 The Simpsons – The Yellow Album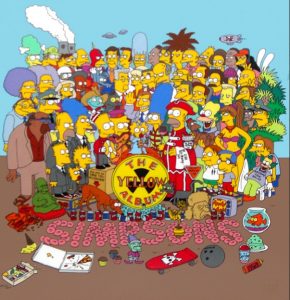 The Rutles – Sgt. Rutter's Only Darts Club Band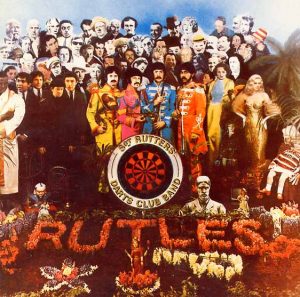 Golden Throats – a compilation of critically lambasted cover songs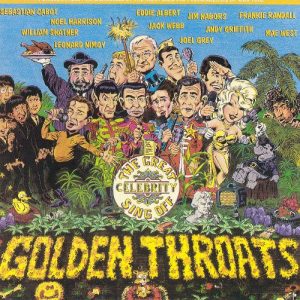 Sgt. Pepper's Lonely Hearts Club Band consistently ranks in critics and fans listings of best albums of all time. Among numerous accolades and awards, it is ranked # 1 in Rolling Stone's 500 Greatest Albums of All Time. It's included in the Library of Congress's National Recording Registry and is one of the best-selling albums of all time.
Whether Sgt. Pepper is an old favorite or if it's brand new to you, this classic album / cultural touchstone is well worth a listen!