Editor's note: Arachnophonia is a regular feature on our blog where members of the UR community can share their thoughts about items in the Parsons Music Library's collection. All links included in these posts will take you to either the library catalog record for the item in question or to additional relevant information from around the web.
Today's installment of Arachnophonia is by Music Library student worker,Emma (class of 2021) and features In Between Dreams a Jack Johnson album from 2005. Thanks, Emma!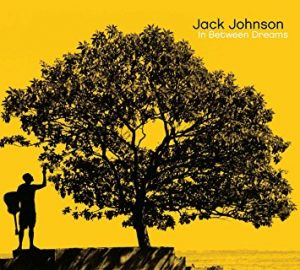 This CD was released in 2005, though the music on it is timeless. Jack Johnson's songs are relaxing, beachy, and easy to listen to. They remind me of a summer day but yet I play them all year round. This album was his third studio release, and many of his most popular songs are on it. Some of my favorites are "Banana Pancakes" (the name says it all), "Breakdown", "Better Together," and "Constellations." I remember first hearing his music on the soundtrack to the Curious George movie when I was little, and ever since then Jack Johnson has been one of my go-to favorites. I've never met someone who didn't like his songs! I hope he releases some new music soon!