by Joy Lim
Joy Lim is a Sophomore from Dallas, Texas majoring in Rhetoric/Communication Studies + Sociology and minoring in Anthropology. She is involved in the Westhampton College Government Association (WCGA), Alpha Phi Omega (APO), Delta Gamma (DG), Korean American Student Association (KASA), YouthLife, and is a mentor in the Peer Advisors and Mentors program (PAM). This is her first year working with the Race & Racism Project but she is interested in continuing this work in the future. She hopes to explore social justice issues not just on the University of Richmond campus but around the world as she continues her studies.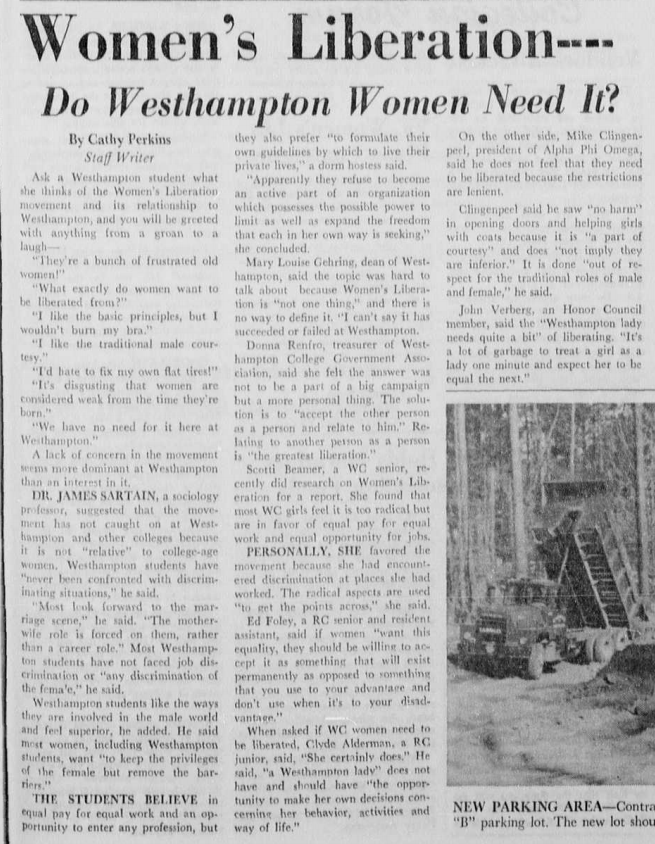 Westhampton and Richmond College students were questioned on their opinions surrounding the topic of the Women's Liberation Movement in 1971. A variety of opinions were shared by University of Richmond students and a wide range of them were ridiculous. Opinions such as "I'd hate to fix my own flat tires!" to "I like the traditional male courtesy" were expressed by students of Westhampton College in response to the "radical" practices of feminists of that time. The students' responses show an astonishing lack of care and compassion towards women around the world, much less themselves. The patriarchal environments in which these individuals grew up are clearly reflected within terms such as "traditional male courtesy" and "fixing their own tires." The belief that men are solely responsible for the maintenance of cars and the perseverance of courtesy is laughable in July 2019. Yet the stereotypes placed on men and women were a source of tradition and social norms for the students at the University of Richmond due to the majority of students who came from conservative households.
In 1971, there appeared to be a general lack of interest and care towards the subject of women's liberation. Students were unable to understand that women were worthy of equal status and treatment because the thought of changing what was comfortable and already habit for them in terms of gender roles was unthinkable. Sociology professor, Dr. James Sartain, for example, believed this thinking to be due to the lack of connection between individuals and the matter at hand. According to him, many Westhampton students had "never been confronted with discriminating situations" and additionally, "look(ed) forward to the marriage scene." This is the most shocking realization that I had when reading the article. A majority of heterosexual white Westhampton College students were excited for and expecting marriage at an early age. This difference between myself and the students written about within the article was a great cultural shock to me. The culture amongst young adults in America right now is to marry after securing a stable income and work situation. In addition to believing that there was nothing wrong with the patriarchy, a majority of students believed the Women's Liberation Movement to be too "radical" and opted out of declaring support.
Westhampton College leaders, including the dean and the treasurer of Westhampton College Government Association, also refused to make clear statements on the issue. Instead, they stated that "the topic was hard to talk about… and there is no way to define it." As a proud member of WCGA, reading the statements made by the Dean of Westhampton College and the student government treasurer, I am disappointed that leaders within the college could not show more courage and leadership at a time when they were most needed as vocal spokespeople. Many Richmond College students also had different opinions to share, both in favor and not in favor of the Women's Liberation Movement. Richmond College junior, Clyde Alderman, expressed opinions in favor of the Women's Liberation Movement by stating that, "a Westhampton lady should have the opportunity to make her own decisions concerning her behavior, activities and way of life." Students from both Westhampton College and Richmond College held various opinions about the women's liberation movement that affected the atmosphere on campus.