by Shira Greer
Shira Greer is a rising sophomore from Fairfax, Virginia majoring in Political Science and minoring in Women, Gender, and Sexuality Studies. This is her first summer working with the Race & Racism Project. On campus she is also a Richmond Scholar, an Oliver Hill Scholar, a Peer Advisor and Mentor, and a member of the Executive Council for a Multicultural Space at the University.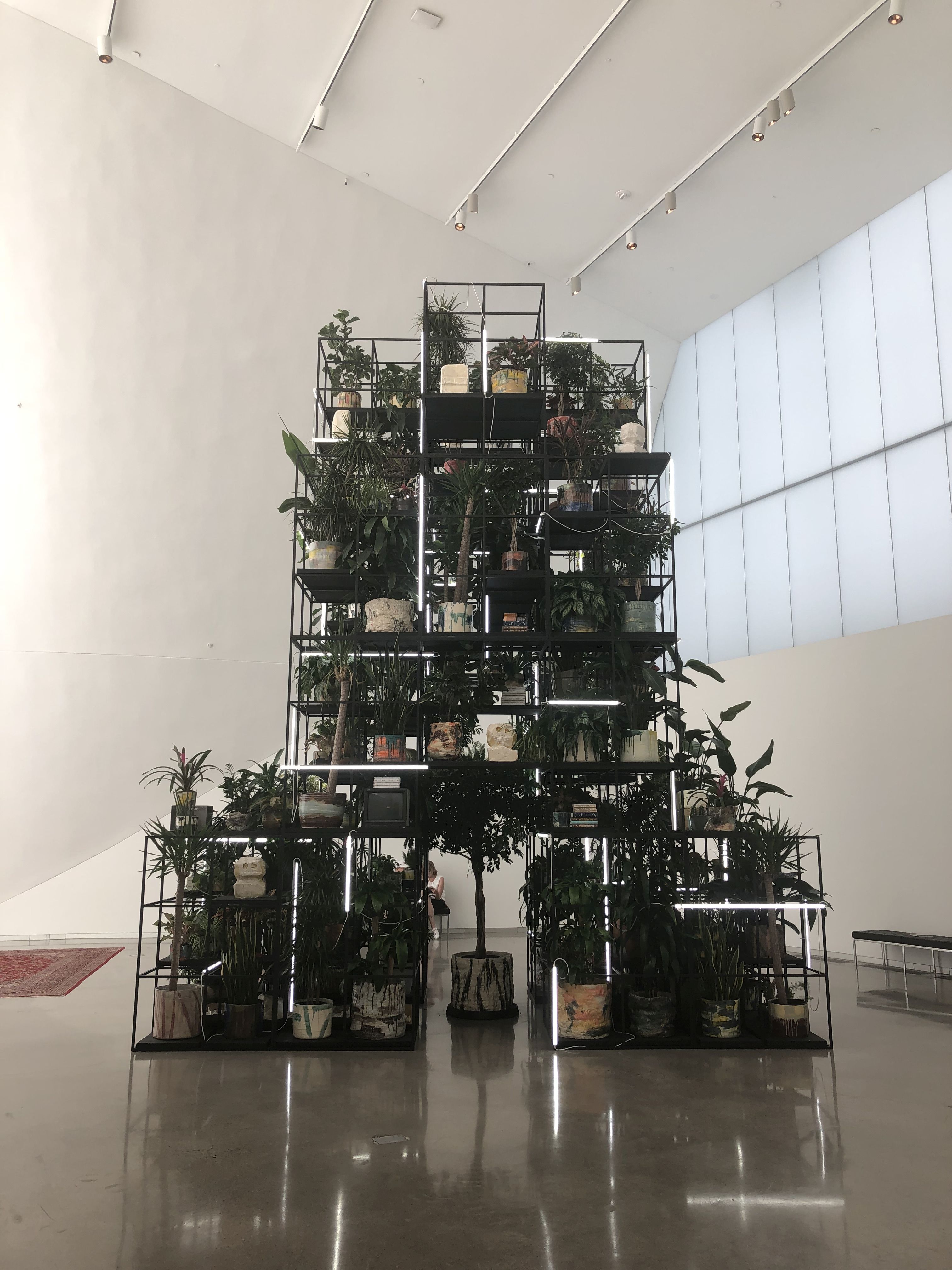 For my second site visit, I chose to go to Virginia Commonwealth University's Institute for Contemporary Art (ICA). One of the exhibitions on display is entitled Monument, and is the first work of the ICA's Provocations series, which commissions artists to create a new artwork for the light-filled, high-ceilinged True Farr Luck Gallery, housed on the top floor of the museum and designed by architect Steven Holl as "a provocation for artists to engage." Created by Rashid Johnson, Monument is a towering steel structure filled with plants, shea butter sculptures, books, and video monitors.
Though I was struck by its beauty upon reaching the top of the stairs, I was initially perplexed by its meaning. However, reading into more of the background of the piece as well as Rashid Johnson's other works gave me some insight into Monument's significance. Of his piece Within Our Gates, Johnson said:
I've always had a difficult time recognizing myself in historical narratives although I grew up with them as a backdrop to my childhood because my mother was a historian. Now I've begun to pick and choose which parts I find useful and in many cases I create my own […] using my work as a means or portal to effectively rewrite history, not as a revision but as a work of fiction.
Monument continues this reimagination of history, combining past and present in such a way that allows audiences to see black lineage reflected in the work. For example, the exhibition can only be reached by ascending to the top floor of the museum, which symbolizes the ways in which progress can only be achieved by standing on the shoulders of those who came before us, using their contributions to reach new heights. Additionally, shea butter features prominently in the work. In an interview with the Richmond Times-Dispatch, Johnson stated, "Shea butter was a staple in the African-American community, but now, it's everywhere, like Jergens. Everything has shea butter in it." Johnson incorporated shea butter through both blocks of yellow shea butter as well as carved shea butter totems, which he calls "Anxiety Man" due to "liv[ing] in a time that makes us pretty nervous and anxious." Through the incorporation of shea butter in these various ways, Johnson calls attention to the ways in which time changes elements of culture.
In addition to these broader statements on black history and culture, Monument also has a more Richmond-specific significance. In the ICA's video for the piece, Johnson said:
When I was invited to do an exhibition here, I really had to think quite seriously about what I knew about Richmond. And however low-hanging fruit this may be, I know about the monuments. It's quite complicated for me on a personal level, imagining how and why something like that continues to exist in a place that obviously has so much diversity, a place that I think has quite a bit of ambition to produce a kind of tolerance. So I quickly gravitated towards what it meant for me to consider making my own kind of monument in a place like this.
Johnson's initial reaction to being approached to create Monument emphasizes how much influence Richmond's history still has on how it is viewed in the present. However, by titling the piece Monument, Johnson asserts the validity of his own reinterpretation and reclamation of history through creating his own monument to black culture in contrast to the Confederate monuments Richmond is known for. Through doing so, Johnson chooses to take control and help redefine the narrative of Richmond. It is the same work the Race & Racism Project is doing for the narrative of UR, in hope that we might finally make this university a place where all students, staff, and faculty are not only welcomed, but valued, and able to feel this is a place where they belong.