by Jisu Song
Jisu Song is a sophomore from Richmond, Virginia not decided in major but minoring in Women, Gender, and Sexuality Studies (WGSS). She has been involved with the Race & Racism Project since 2019 and is currently serving in the Oral History Team. As a student, she is an executive member in WILL*, member of Sirens, and a peer advisors and mentors. She hopes to work for global audiences.
On a Monday afternoon, after the intense discussion about how many historical ideas are geared towards western culture, I visited different monuments and statue in the city of Richmond, we were assigned to visit the Black historical figure's statues. As a resident of Richmond for 5 years, I realized that I have never visited these sites, in fact, I did not hear Arthur Ashe's name before I visited the statue. I was aware of Maggie Walker from the Governor School's name. However, I was not able to fully know what she had accomplished during her lifetime. I was not familiar with both of their achievement and work that they have done in this city. To learn more about the great historical figures who born in Richmond and worked for a better world, I researched and visited the sites.
Through learning about the history of the United States, I found out that not many Black historical figures are mentioned in the school's history book. Although I attended high school in the Richmond area, I haven't heard Maggie Walker and Arthur Ashe's name in the history book and class. During the time of high school education, I learned many things about Civil War and Jim Crow Era. Although I was able to learn what had happened in the past, many stories were focusing the 'white culture.' I have not heard many Black historical figures who fought for their rights except Dr. Martin Luther King, Jr., Rosa Parks, and some others. I remember not questioning about who's historical perspective we were educated at the moment. Looking back, I realized that many of the histories that I was taught in the classroom had very few perspectives in telling the stories. Although we are still discussing who have fought in the Civil War such as Robert E. Lee and more confederate soldiers work, I found that we lacked learning about slavery's perspective, perspective of Black people who fought their life for their rights in the United States during the Jim Crow Era.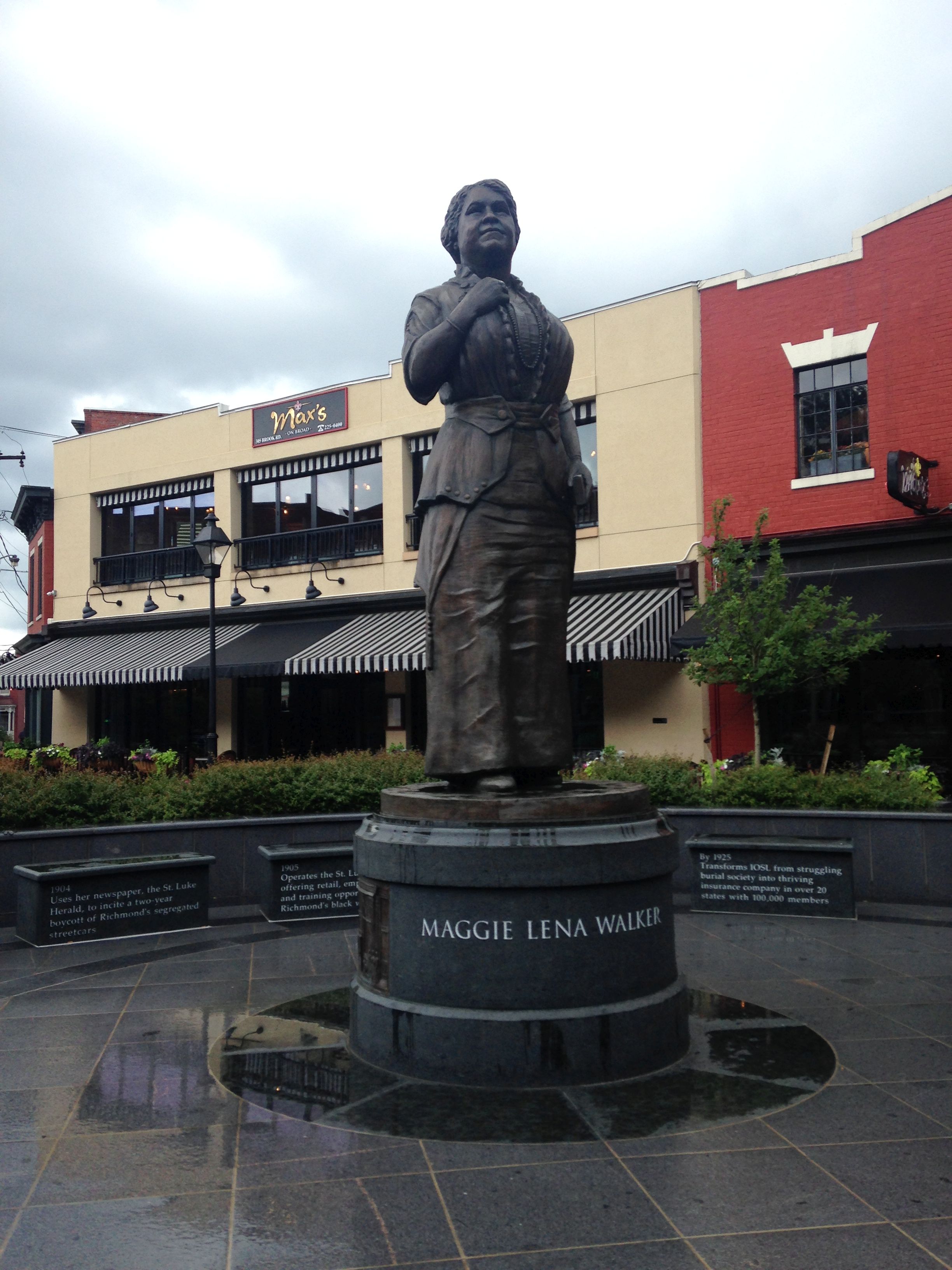 Our first stop was at Maggie Walker statue. The statue was standing in the side of the Broad street and Adams street near Art District bus station. The statue was surrounded with the stone, which contains chronological order of her accomplishments. The stone explains that she was the first African American female bank president, used her newspaper to encourage a 2 years boycott of segregated street cars, trained and gave opportunities for Richmond Black women a job at her emporium, and more to support the right of African Americans in Richmond. She looked really grand, powerful, and strong. Her statue explains how much work she has done in the city of Richmond. The monument explained really well her accomplishments. She had worked in the bank, newspaper writer, and entrepreneur for an insurance company. Not only she achieved many things in her life, but she also provided a safe space for African American people during the Jim Crow Era. If you look into the statue, there is a drawing of the African American people sheltering in her bank. The explanation shows that she not only was a hard-working person as the first African American female bank president, but she also used her power to support the Civil Rights movement. The description of her was written right below her statue. My most favorite description of her was as mother because although she was going through her work as banker, newspaper writer, entrepreneur, she raised her kids. Her statue reminded me that if we try hard enough, we can accomplish goals or overcome hardships.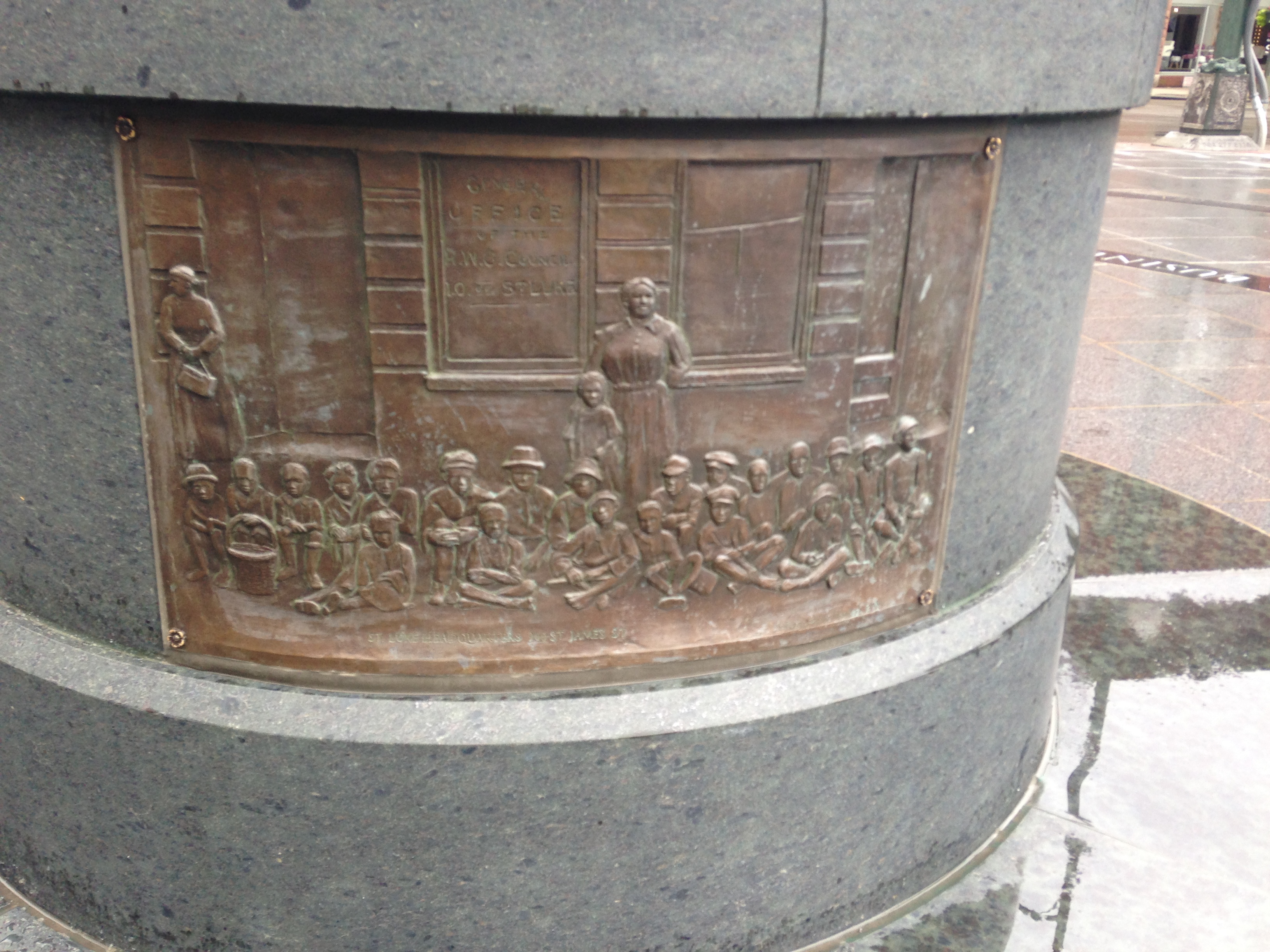 Our second stop was the Arthur Ashe monument at Monument Avenue in Richmond. The first impression that I got from his statue was the fact that children are portrayed with him. I usually think that when the statues built, the majority of them portraits the main historical figure. However, he was portrayed with children, which I thought it was trying to show how he cared for the world. During his lifetime, Arthur Ashe won three Grand Slam Title in Tennis and worked hard to spread the word about HIV. After he was infected in HIV while he was in the surgery, he tried hard to inform many people about HIV and AIDS. The fact that this statue is standing in the Monument avenue where many confederate statues are held was telling something to me. I thought that it was very intentional to put Black historical figures at the Monument Avenue to show that the street is not 'racist'. However, I believe that Monument Avenue tried to solve the problem in the surface level, the street did not touch the core of the problem.  I noticed that Ashe's statue did not have the fence that other monuments in the Monument Avenue had. It was much easier to access for vandalization. I thought that the way how monuments were built carries some institutional racism is behind it by looking how his statue carries difference than other monuments on the same street. For example, through the research about Arthur Ashe, I found out that many people were opposed to his statue built in the location. Some also thought that his posture looks like taking away the education to the children and hitting children with a tennis racket. I personally did not feel that way, but it was very interesting to see how many people thought it this specific way.
Through visiting two different African American historical figures monument, I was able to feel that there are many controversies behind these statues. The fact that many people were opposed to have the statues and don't mention about these historical sites from the public school just interests me. It was really nice to see some great people who worked hard in Richmond. However, I wish that all the statues should be treated the same way. I hope that in the future we can all celebrate their work equally as others.