by Dominique Harrington
I've read, Jarett Drake's, "Documenting Dissent in the Contemporary College Archive: Finding our Function within the Liberal Arts", a few times, as I worked with the University of Richmond's Race & Racism Project this past fall. I'm more and more convinced as to the inherent liberatory and reconciliatory nature of archives each time I read it.  Towards the end of this piece, Drake discussed having an Ida B. Wells quote printed on a t-shirt, "Those who commit murders write the reports…"  However, it wasn't until my third time reading this piece that I was inspired to looked up the context of the quote.  It is an excerpt from an anti-lynching speech that Wells gave on February 13, 1893, which was later published in Our Day magazine in May of that same year.  Many folks are familiar with the popular phrase, "History is told by those who win."  However, with this quote, Wells offered a slightly different manifestation of this notion. Rather than looking at history through a lens of triumph or defeat, she astutely points out that we must also look at historical figures as those actively perpetuating systems of oppression, whether it be as intentional and explicit as lynching, or whether it is an instance where the Dean of a conservative women's college submitted a report sharing her appraisal of the untraditional direction she felt that her students were drifting.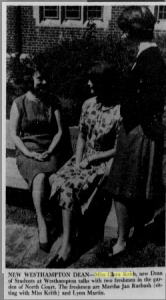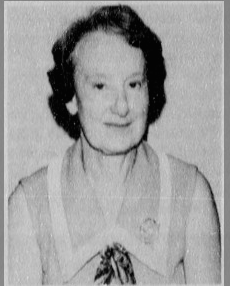 I hadn't found an extensive amount of explicit student dissent, as Drake discussed, within the boxes and folders that contain Dr. George Modlin's Presidency (1946-1971); that is until last week when our project archivist, Irina Rogova, included an Annual Report on Student Life at Westhampton College (WC) from the Dean of Students, Clara Keith, in 1970.  So far, this is Dean Keith's first, and only, appearance in the archive.  However, upon some digging in the long-standing student newspaper, The Collegian, I discovered that she became the Dean of Students in 1964,according to an article published on September 25, 1964.  She got her Bachelor's Degree at Northern State Teacher's College and received her Master's Degree from the Teacher's College of Columbia University in educational psychology, student personnel administration, and higher education.  She even continued her studies further at UCLA to study radio, writing, and the theatrical arts.
Throughout her time as the Dean of Students, she wasn't in the publication very frequently, and when she was, oftentimes it was inconsequential-speaking of usual duties of a Dean.  Therefore, I wasn't able to get a definitive grasp of her personal ideologies.  However, deans of every department were required to submit a report, detailing the concluding academic year, and I certainly feel a report she wrote for the 1969-1970 school year clears things up a bit.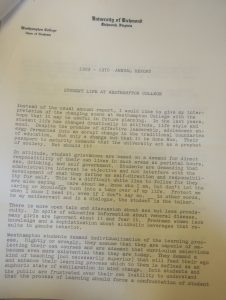 We don't know the names of these students.  We don't know what they did on campus, and how their acts of rebellion spurred changes in the quality of students' lives. However, we do know that they made enough of an impact for the Dean of Students to dedicate the vast majority of her annual report to disparaging those engaging in dissent from the traditions and social norms of the University. We do know that this report was written in 1970, the dawn of new movements toward a more equitable society, particularly for black folks, women, and LGBT individuals. It seems fair to say that the overarching movement of challenging norms spilled onto the University of Richmond campus, and rather than responding to students seeking change with empathy, Dean Keith responded with a tone of contempt–completely dismissing the students by assuming that they were "acting out."  To avoid jumping too far to conclusions, there's an ample amount of information I don't have about Dean Keith–like her intentions behind the rhetoric she used.  However, that doesn't negate the fact that the way she described her more radical students impacts how we see them today.  Trying to read between the lines of this document and acknowledging its tone proves to be important as the legacy of these students is integral to the history of the university, yet this dismissal, in turn, played a role in their erasure.  Both then, and how we remember or don't remember them today.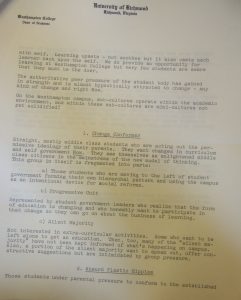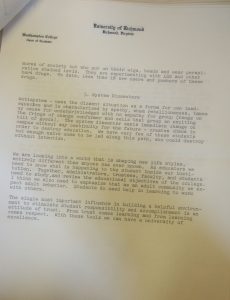 It was through writing the metadata for this set of documents that this Jarrett Drake quote came to mind:
How can there be any liberation or independence in thought if we as archivists and librarians are not intentionally assembling a more perfect historical record that reflects how many of our institutions have been directly hostile to notions of full liberation or independence?
Drake calls upon archivists to carve out space in the archive that demonstrates how our respective institutions have been opposed (to varying degrees) of "full liberation or independence".  It seems as if with nearly every sentence of this report, the University of Richmond was in direct opposition to their student's increasing need to break free from oppressive traditions that elitism and sexism imposed upon their day to day lives.  As an activist archivist, Jarrett Drake explained, the explicit function of liberal arts institutions isn't to recreate systems of oppression, yet still, they continue to be guilty of doing so.
Looking at this report at face value, I could have assumed that these subcultures were, in fact, "using the dissent situation as a forum for (their) own inadequacies and (were) characterized by apathy (and) sham rebelliousness."  However, these rebels were the same ones that were making a change on this campus both academically and socially, and for that, I believe they deserve their place, their independence, and their liberation. So, here's to those with their "wigs, beads, and perspiration stained Levis."  Here's to the change conformers, the absurd plastic hippies, and the system dissenters.
We see you. We thank you.
Dominique "Dom" Harrington is a rising junior majoring in American Studies and minoring in Women, Gender, and Sexuality Studies.  She worked with the Race and Racism project for the Fall 2016 seminar, Digital Memory and the Archive. This summer, she is thrilled to continue working with this project remotely from her hometown of Indianapolis, Indiana.