Atlas of the Week: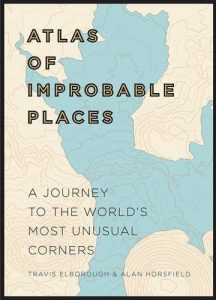 My atlas of the week is the Atlas of Improbable Places by Travis Elborough and Alan Horsfield. With stunning maps designed by Horsfield, this atlas transports readers to some of the most unique destinations on Earth. First, readers journey to ancient cities such as Ani in modern-day Turkey and ruins in Mexico of villages destroyed by lava. Elborough's enticing writing then steers readers toward the secrets of cities like Beijing and Berlin before illustrating enigmatic destinations such as the Island of Dolls in Mexico and the "Door to Hell" Crater in Turkmenistan. The beautiful marriage of Elborough's writing and Horsfield's cartography creates an incredible voyage that traverses some of the most mysterious sites around the world. Critics have deemed the atlas "deliciously gloomy, sometimes spooky, and often kooky"—this atlas is not for the faint of heart, but anyone with a curious and adventurous inkling will certainly devour its creativity.
Blog of the Week:
http://www.openculture.com/category/maps
Open Culture's map archives offer a very unique and eclectic set of maps. Readers can find maps separating the U.S. into a mere 38 states, depicting all the languages spoken in Europe, illustrating Roman roads in the form of modern subway maps, and from ancient civilizations. Whether readers want to find something visually stunning, uniquely crafted, or historically relevant, there is a map for everyone on Open Culture. It also displays maps sometimes via more unique media such as interactive maps or time lapses.