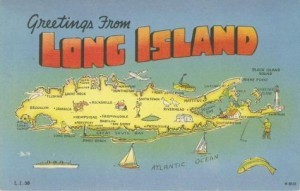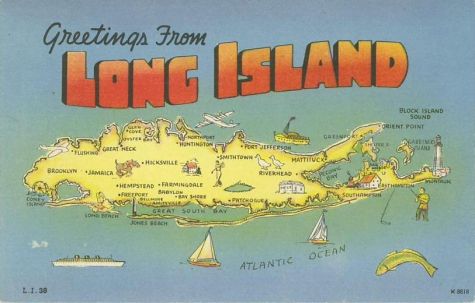 For this week's map of the week, I decided to choose a map that I was particularly familiar with and has a certain relevance to me.  As long as I can date back my lineage, my entire family has lived on Long Island.  Long Island has always been and will always be a place that I feel like I can trace my roots back to.  My Dad and his family originally lived in a town called Hicksville, which is shown in the central part of the map, before they eventually moved to the town that my family and I live in today, Garden City.  Many of my fondest childhood memories have taken place on Long Island and although I may be biased I have always felt that it has so much to offer to those who live there as well as those who come to visit.  Whether its going to the beach, boating, attending a concert of your favorite band, international airports, golf courses, historical sites and near one of the largest cities in the world, Long Island has everything that someone could ever want if they lived here or even if they just stopped by for a visit.
I find this particular tourist map of Long Island to be very unique.  Even though Long Island is an island, it's located right next to Connecticut and New York.  This map of Long Island completely takes Connecticut and New York out of the picture, making it really stick out to the viewer's eye.  It forces the map viewer to see all of the things that you really can do on Long Island.  Similar to the North Carolina State Highway map that we looked at in Denis Wood's novel, this particular map of Long Island is trying to sell to people on all the things you can do on Long Island and that you should visit.  Both of these maps looked to prove to the viewer that there are various activities to do as well and many different places to see.  These maps also wanted to make sure that no space on the map was wasted and tried to include as much information as they could. The cartoonish nature of the map is also something that stuck out to me.  These animations show all of the different sites and events that you can do and see on Long Island.  For example, the fisherman and boats represent all of the great fishing and boating locations that Long Island has to offer.  I think the author, who is anonymous, really wanted to show to the viewer just how unique these opportunities are.  It is not often that you have waters that are great for fishing and have access to calm waters for boating.  Whether it's taking your boat out of Montauk past the Montauk lighthouse looking for a that massive catch of the day or casually boating in the calm waters of the Long Island Sound, this map shows all of that through the cartoon pictures along the coastline.
There were also some very interesting images on the inland portion of the map that stuck out to me and reminded me of some of my past experiences.  Some of these things that stuck out to me were the cartoon pictures of the golfer, the racehorse and the Ferris Wheel at Coney Island.  The golfer is there to represent the Bethpage Black Course, one of the most difficult golf courses in the country and the racehorse represents Belmont Park, the location of Belmont Stakes each year.  The Ferris Wheel is one of the main features of Coney Island's famous amusement park.  It's amazing how cartography can make you remember some specific events in your childhood.  When I see these cartoon pictures pictured on the map, they immediately bring me back to some specific events in my childhood.  I remember playing golf at Bethpage in the summer with my friends, attending horse races on Sundays with my Dad and I also remember riding on the Ferris Wheel on trips to Coney Island with my family.  I feel like the author decided to include these particular features because they are some of the main attractions for people who live on Long Island as well as tourists who come to visit Long Island.  These are just some of the things that I will think about and remember when I see this map.  For someone who has never been to Long Island, they would be able to tell from looking at this map that Long Island has a ton to offer to people.  The cartographer didn't waste any space on the map and tried to include as many of Long Island's main attractions as he could.
This anonymous tourist map of Long Island ended up having more of a personal connection to me than I had originally thought.  As I continued to dive deeper into the map I realized just how meaningful Long Island is to me.  This tourist map brought me back to some fond memories I have as I remembered participating in the various different activities that Long Island has to offer.  It truly is a place that I can call home.  This particular map really helped me to realize this and it is incredible how what seems like a simple tourist map of Long Island can have such a special impact on someone.