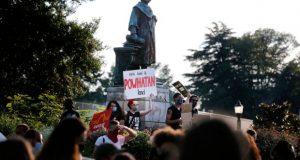 Hi all,
During our last class I was chatting with Bethany and Emily about the challenge of teaching  problematic historical figures to the younger grades. Bethany pointed out that the SOL for grade 2 specifically asks teachers to "describe the contributions" of Christopher Columbus. The first time I encountered the Columbus section of the The People's History of the United States, I had to literally put the book down and walk away. It was that upsetting. Knowing what I know about Columbus, I was more than surprised to see him included on the agenda for second grade.
So how do you teach terrible history to young children? Do we sugarcoat figures like Columbus and hope to bust the myth later, when they're old enough to learn about slavery, genocide, and caging women and children in pens? Or do we give them the tools to think critically about the towering historical figures that our country still celebrates?
In search of an answer, I went to Google and found some great resources that might help us begin to bust the myth of Columbus at an early age. Teaching History has a great post on different approaches to teaching Columbus from K-12. I especially liked the recommendation for the book Discovering Christopher Columbus: How History is Invented. The book includes primary source documents appropriate for young learners (as early as second grade, I would say); I firmly believe that primary source work can help teach students to think critically about original documentation, to consider multiple and differing perspectives (including colonized cultures), and moreover, to understand that history is itself constructed. I think books that work with primary sources are a good, age-appropriate start to teaching students how to think critically about the past (the lesson that history is a construct is huge, I think) and are a good way to start grappling with problematic figures like Columbus.
Anyhow, this is all just my two cents. How would you teach Columbus or other figures like him, especially to young children (K-2)? Should we remove Columbus from the SOLs, or should we be forced to reckon with a fuller account of our history?