by Noah Maggin
The sign hangs proudly, centered above the bar, in the tornado of commotion within Mama J's Kitchen. "Welcome to our home," it reads, "where great memories are made with family and friends."
What better way to comfort diners and encourage them to feel at home?
Opened in 2009, Mama J's truly is home for whoever walks through that front door—whether you are a relative, friend, loyal customer, or tourist. Despite its growing reputation as one of the most notable soul food restaurants in the country, Mama J's has never drifted from its family roots.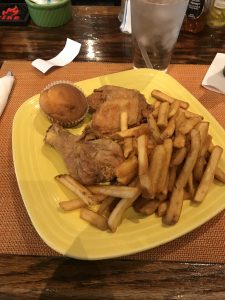 It all started with Mama J herself: Velma Johnson. Ms. Johnson grew up in Richmond, helping her mother and grandmother prepare big family meals in the kitchen. Those handed-down recipes for meals such as Mama J's signature fried chicken (left), are treasures that other soul food eateries in town would do anything to get their hands on. From Mama J's perspective, those storied recipes are meant to remind community members of the good old days in Jackson Ward— and inspire the rebuilding of a once vibrant neighborhood through black entertainment, food, commerce, and religion.
Mama J's Kitchen would, as its website says, help "celebrate the family tradition of going to grandma's house for Sunday dinner." Sundays are the restaurant's busiest days, in fact, as Jackson Ward's churchgoers head over after services to socialize, dine together, and, most importantly, feel at home.
Nearly every person I talked to at Mama J's raves about the food.
Ask the bartender Reggie, a two-year veteran, and he'll tell you the three best dishes are the fried pork chops, the fried chicken, and the catfish—"the best I ever had."
Speaking from personal experience: The spare ribs cut like butter, the corn muffin sides taste like mom made them, and the mac n' cheese sends the taste buds to a happy place. It's southern comfort soul food at its finest, and it tastes like home.
Bartender Malika Trower stands on the other side of the bar with a big smile on her face. Her energy and high spirits radiate from her before she even speaks a word. Trower's favorite aspect of working at Mama J's is "the coworkers, the music, the atmosphere, and just everything—it feels like home."
And then there's Mama J herself.
Passersby might see a full restaurant with table cloths, orange and yellow colored walls, and a nice bar, yet it's Velma Johnson who makes the difference.
Mama J "can be strict when she wants to be, and she has to be for the business," says Trower, the bartender. But she's built a powerful community around this restaurant, where everyone feels welcome for Sunday dinner, every day of the week.
Just the way Mama J envisioned.