By Brooke Warner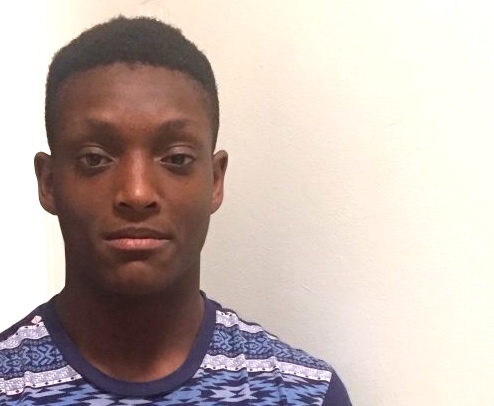 Dominick "DJ" Dandridge (left) sat on the steps outside reading a children's book the first time we visited the Sacred Heart Center. When we had trouble opening the door, he jumped up to help. Thanks, we said, as he followed us inside. 
"I work here," he said, in a gentle raspy voice. "Sort of."
It is true that DJ's role is not defined, but he comes to the Center nearly every day after school, bringing snacks and a kind word to those he meets. Sometimes he stays at home, just a few houses away, and rests instead. "I'm a sleepy type person," he says. 
When I ask him how old he is, he says 17. 
"How old did you think I was?" 
He had told me he was in the eleventh grade at Armstrong High School (below), so I figured he was 17 or 18. 
"You'd be surprised," he says. "At my school, we have a lot of ninth graders in their 20s."
In 2016 DJ's school, Armstrong High, was ranked last of 320 high schools in Virginia rated by SchoolDigger. It is second-to-last in both math and English proficiency among the nine schools in the district. The school population is 97 percent African-American, and 97 percent economically disadvantaged.
DJ does not know why he was assigned to Armstrong, since there are other schools much closer to his house. He's not sure exactly how far away it is, though. He falls asleep during the 50-minute bus ride to and from school.  
He learned French in school, but picked up some Spanish by volunteering at the Center. What he really likes learning is history. "With history, you know everything. It involves science, presidents, adventurers. It's got all you need."  
Because of its rich history, he dreams of going to University of Virginia. He also wants to become an engineer in the Navy, he says, because they pay tuition and have all of the equipment he needs. For what, exactly, neither of us is sure.
He "skipped" his SAT, he says, so now he works at the Sacred Heart Center and Woodrow Wilson Workforce and Rehabilitation Center for college credits — earning enough, he hopes, that he'll be able to apply to college without taking that crucial test. 
With a November birthday, he's older than half his class. "And pretty mature," he adds quickly. 
Mature, indeed. He had two open-heart surgeries for a congenital heart defect, he tells me nonchalantly, one at birth and one when he was five years old. He spent his sixth birthday alone in the hospital. Now, he explains, a tube in his throat is what makes his voice deep.

"I used to love to run. I was the third-fastest runner in my elementary school," he tells me with pride.
He once tried MMA fighting, but his doctors put a stop to it. "That was the most heartbreaking thing." He shakes his head. Now he plays basketball and football over the summer, mostly in pick-up games. He has even played with the VCU basketball team, he says. 
"I'm alright now, but my mom says they might have to go in again." The next surgery would be to stretch his heart and open the valves to allow for increased blood flow. 
He calls his grandmother Mom, and when I clarify this he smiles. "I'm glad you picked up on that. A lot of people don't." 
His real mother was unable to take care of him or his seven brothers and sisters. Now they are all scattered around Richmond. One little brother lives right down the street, but he does not know where the others live and rarely sees them. 
His friends in the neighborhood mostly moved away, so now he reads and listens to music in his free time. And, of course, he sleeps. He listens to what he calls "softie love songs," citing the popular R&B song "iSpy" by Kyle and Lil Yachty as one of his favorites. It is, in no way, a traditional love song. As for books, he names one from his childhood, Thomas the Train.
"They say I'm a soft guy. I like peaceful things," he says. That's why he likes living in Jeff Davis. It's quiet.  
Having lived here so long, he has noticed a definite increase in the Hispanic population of Jeff Davis, and says that he predicted this would happen five years ago. 
"I wish it was back in the day like with Moses. I'm inspired by Moses. We can learn from each other. We don't have to take them and change them. We can come together."
Despite this role model, DJ says he is not very religious. "My family doesn't force religion. They say you either learn it or you don't." He often falls asleep in church.
---
Read this dispatch in Spanish, click here/ Leálo en español aquí.