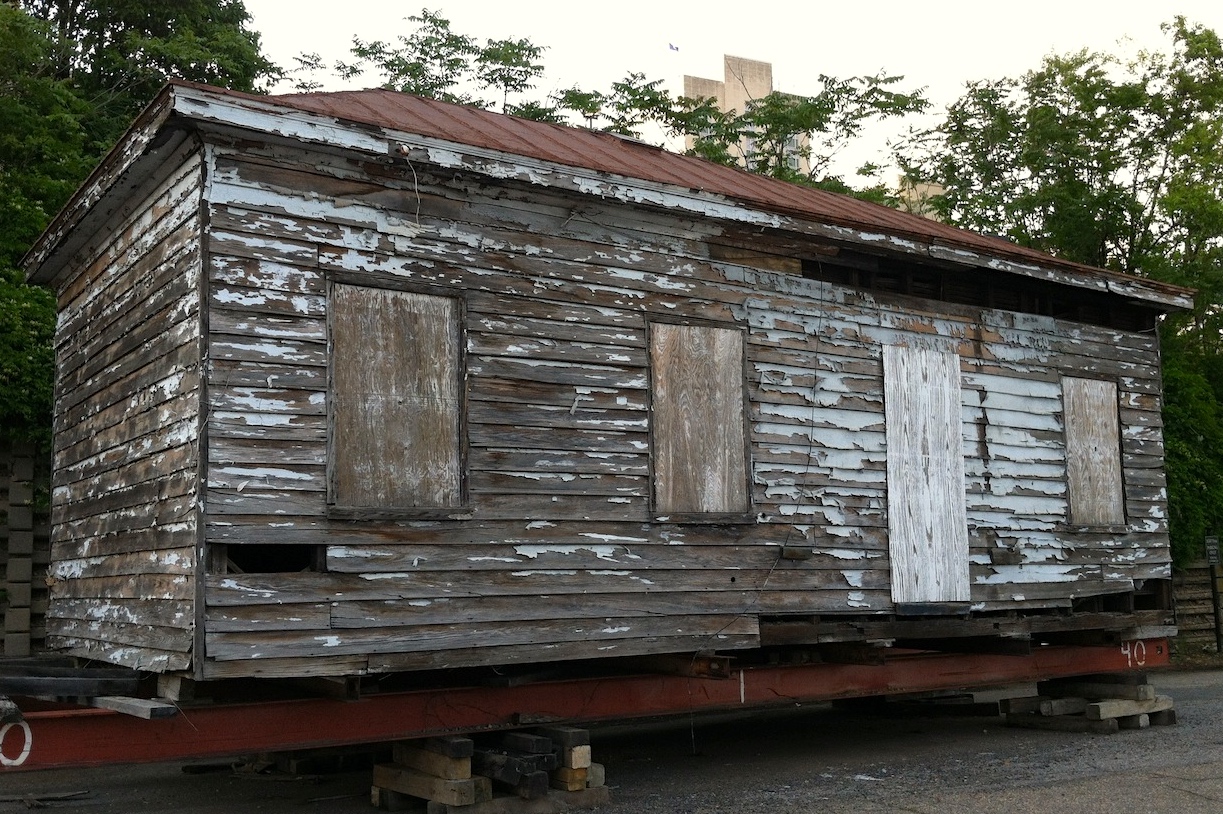 "The map says we're close, it's definitely around here somewhere."
"Is that it?"
"No, I'm pretty sure that's just a construction site. Wait, there's a marker!"
It had been half an hour since we first passed under the railroad trestle framing the Welcome to Shockoe Bottom sign on the sidewall of a Main Street building. My classmates Molly, Brooke, and I were walking in circles, searching for some grand entrance or a giant arrow pointing to a well-maintained Lumpkin's Jail, once a horrific holding facility for captured and disobedient slaves. Instead, we found an unmarked cobblestone courtyard in a VCU parking lot hidden behind Main Street Station. Next to it was a tiny relocated cottage once owned by a slave, decaying on a trailer bed.
As we arrived, Wendy Hudson, an IT specialist working in the nearby James Monroe Building, was cutting through the parking lot on her way home. She seemed perplexed when I pointed out the historic site nestled behind the moldy train sheds that she passes by each day to get to work.
I started to summarize the tragic history of the place, but after 20 seconds her mild intrigue melted to disinterest and restlessness. A minute later she was gone, leaving us alone in a parking lot with a half-acre patch of ground burying 300 years of Richmond's shameful history. Compared to the pedestaled glory of the Confederate statues along Monument Avenue, the obscurity of Lumpkin's Jail was the first sign of Richmond's crooked historical landscape.
Lumpkin's Jail may be the most evocative of Richmond's unsung sites of sorrow, but it symbolizes a concentration of obscure but historically significant sites hidden in the east shadow of I-95. Shockoe Bottom is Richmond's oldest neighborhood, overflowing with history. It was the original blueprint of the city William Byrd founded in 1737, and the epicenter of the second largest slave trading hub in antebellum America. It is also on the National Trust for Historic Preservation's 2014 list of America's 11 most endangered historic places.
This archaic downtown neighborhood has been a consistent focal point in changing the way Richmond remembers its slave-trading past. Dr. Erik Johnson, an urban economics professor at the University of Richmond, believes that the "Bottom" is at a defining point in its storied history. He says that there is a general consensus that it is being underutilized and must be rejuvenated to escape the suffocating poverty of Richmond's East End. Having walked the streets filled with decrepit parking lots and empty storefronts, I can't help but agree.
However, the city's proposed paths for development couldn't be more different. One plan involves the creation of a heritage site and memorial park commemorating Richmond's dark past. The other is a $360 million development plan including apartment complexes, department stores and a minor league baseball stadium.
Mayor Dwight Jones' Revitalize RVA plan introduced in 2013 was the latest of a number of redevelopment plans for Shockoe Bottom over the past 10 years, most of which have been strongly opposed by activist groups. The mayor's plan was touted for combining "economic development in Shockoe Bottom, slavery and freedom heritage, and baseball," and it does include a Slavery and Freedom Heritage site. The plan is meant to develop jobs and economic activity in the characteristically impoverished East End of Richmond in a "historically sensitive" way.
But for many, such as Dr. John Moeser at the Bonner Center for Civic Engagement, that is not the point.
In a southern drawl tinged with sadness, Dr. Moeser observes that the project "reflects how disconnected and uncomfortable we are in properly acknowledging our dark past of human affliction that was the foundation of all we have today."
The mayor argues that an historic district memorializing African American suffering would be unsuccessful and wasteful without a "critical mass of development" around it. Even so, building an entertainment complex on ground where humans were sold and tortured feels wildly inappropriate, and is representative of a citywide and national tendency to disrespect and gloss over our unpleasant past.
A Richmond Speaks forum in 2015 (right) produced a report stating that most Richmonders want the area to become a place for "healing, reflection and reconciliation."
Marcus Hasmus, a Richmond National Battlefield ranger at the American Civil War Center, agrees passionately with that conclusion.
"Shockoe Bottom was an engine of a huge system violating basic human rights. Importing and exporting humans like objects. We can't just forget."
Hasmus stares me in the eyes, demanding my attention, and pauses to let his words sink in.
"We have a responsibility and an obligation to acknowledge and explore the suffering and the abuse that were the foundations of our city and our country. Understanding and reconciling with our past is the only way that we can move forward."
By Joe Walderman