by Jenifer Yi
Jenifer Yi is a sophomore from Santa Clarita, California majoring in Biochemistry with a concentration in Neuroscience and a minor in Healthcare Studies. She has been involved with the Race & Racism Project since 2018 and hopes to diversify the conversation and inclusion of all students of color at the University of Richmond. Through her contributions to the project, she wants to push for campus-wide racial awareness. In the future, she hopes to pursue a career in medicine while continuing to advocate and raise awareness for healthcare access for minorities.
I step out of my car into the oppressive, humid embrace of the Richmond summer day. Discretely tucked away behind a Virginia Commonwealth University parking lot is my destination – the Devil's Half Acre, also called Lumpkin's Slave Jail. My shoes crunch against the gravel, taking in the sights of an old, rotting railway track, walls donning graffiti, and crumbling stone walls. It was difficult to visualize what this space looked like as an African burial ground and slave jail. What I saw in my eyes was a sprawling grassy plain next to a highway and hidden behind a parking lot, the occurrences and horrors of the past diluted down to a stone memorial and several signs. The even-leveled field looked unnatural amongst the gravel, wooden light posts dotting the grass every few yards. If it were not for the grass, it looked like a parking lot. And I found out that in fact, as early as 2011, it was a parking lot owned by Virginia Commonwealth University. This space has long been one of contention and strife – a baseball stadium once threatened to overtake the site, but ultimately, it became a memorial ground and place to pay respects for the people of Richmond that fought to keep it there through vigils and protests. The Devil's Half Acre is just a portion of what it used to be in the past. The history of unnamed slaves remain forgotten, buried under a layer of asphalt.
Beginning my self-guided tour, I tentatively walked around the outskirts of the field as there were a few signs and monuments. Many of these signs gave context as to what the Devil's Half Acre used to be (a gallows, slave jail, and cemetery for poor and enslaved black people), but I was left wondering where each structure started and ended. As I explored, it felt wrong knowing that I was walking on top of the graves of these forgotten slaves. Next to a scatter of newly planted cherry and apple trees was a stone monument with a plaque that read: "In memory of African ancestors and symbolizing the spiritual resurrection of a liberated and inspired people." It was a fairly recent monument, as it was erected by the African Ancestral Chamber in 2017 for the purpose of renewing ancestral connections (as many descendants of the exploited and forgotten slaves buried at the Devil's Half Acre can be found throughout North America) and remembrance of the sacrifices and struggles of the buried.
The African Ancestral Chamber, upon inspection of their website, seems to be a collection of people who dedicate their time to preserving spaces dedicated to African ancestors. I also discovered that the freshly planted trees were contributions by the same organization. They preserve spaces such as the Devil's Half Acre by planting trees, watering plants, and erecting signage. By constantly visiting, remembering, and taking care of memorial grounds that would otherwise be forgotten, they carry the passion to memorialize and protect grounds that hold importance for their cultures and ancestors.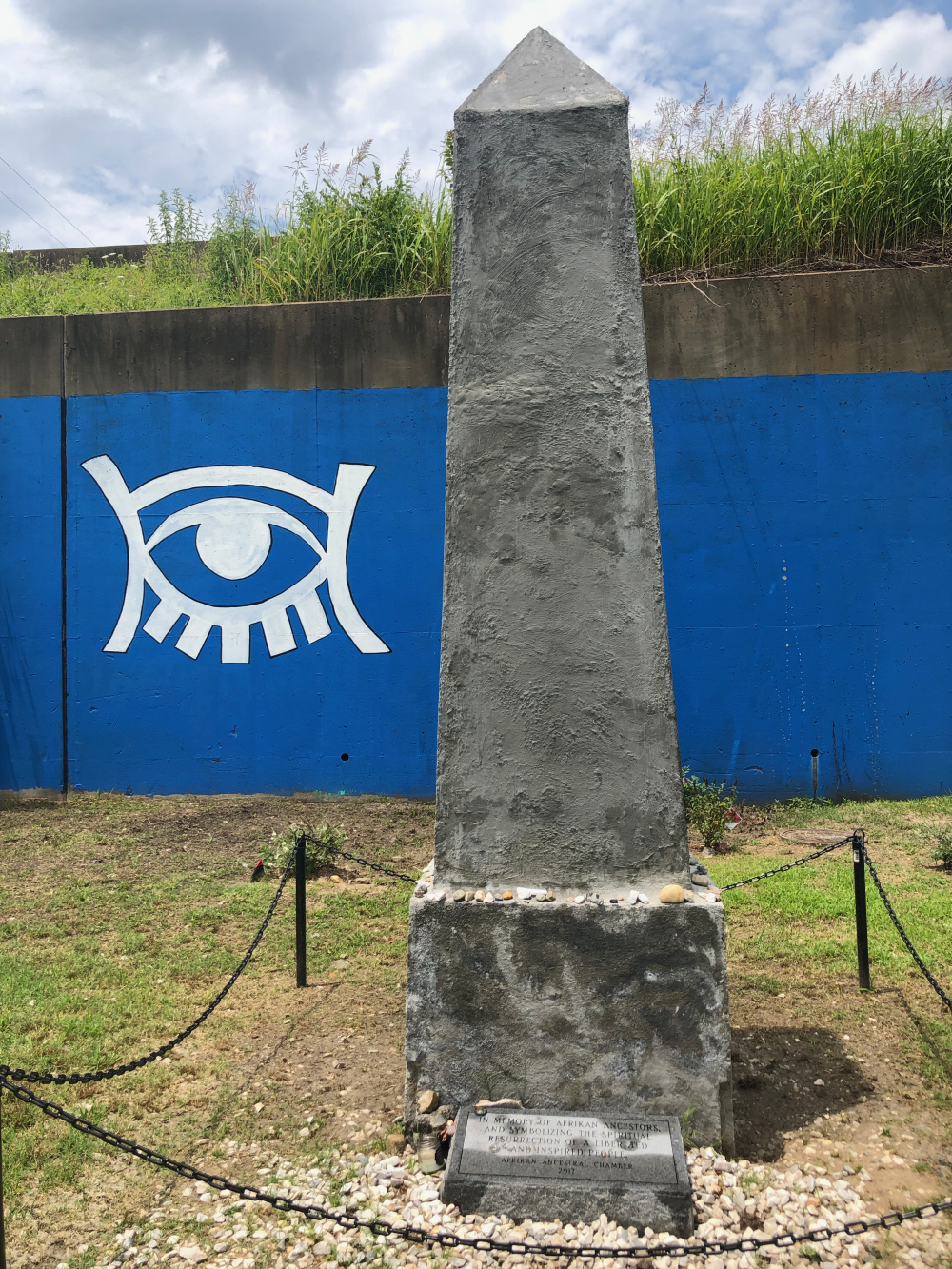 The small stones and trinkets placed on and around the ledge of the monument seemed spiritual to me, as if the living descendants of the past wanted to acknowledge, remember, and revere the ancestors that suffered in the past – whether or not they knew their ancestors by names. The self-determination of the descendants of the exploited African slaves shone through in their dedication to construct a monument of remembrance, maintain upkeep of the space, and frequent visitations is inspirational and powerful. The forgotten slaves will be remembered and respected by their descendants, regardless of how much time has passed.
As a large player in the slave trade, the city of Richmond must acknowledge its past and memorialize sacred spaces such as the Devil's Half Acre. Lumpkin's Slave Jail has transformed from a parking lot to a site where African ancestors have been immortalized and become a part of the historical narrative so that we may not forget them again.