The term black student-athlete is laden with gendered understandings. Colloquially, the term is most often used as shorthand for black students on the men's football or basketball team at any given university. That usage not only dismisses the diversity of talent black men student-athletes provide to athletics beyond the realm of football and basketball but also erases the experiences of black women student-athletes and their contributions to athletics.
Even within a historical context, the argument that black student-athletes were central to the integration of predominately white institutions in the 1960s and 70s is one that exclusively relies on the experiences of black men. Part of the narrowness of that argument can be attributed to the lack of emphasis placed on women's athletics in general. More specifically the limitations of that argument also relate to the timing of the passage of Title IX legislation. Title IX as part of the United States Education Amendments of 1972 states, in part, that "no person in the United States shall, on the basis of sex, be excluded from participation in, be denied the benefits of, or be subjected to discrimination under any education program or activity receiving Federal financial assistance." Title IX expanded educational access and opportunities to women particularly in relation to collegiate athletics.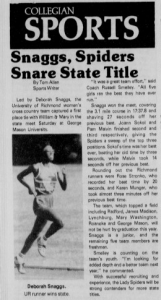 However, the measure came into law after the big waves of integration at predominately white universities had occurred so black women student-athletes were not as integral to that process as black men athletes. Even more, there was significantly less money and attention coming out of women's athletics so universities placed less importance on recruiting women athletes. In fact, the University of Richmond, despite a long history of having women's athletics, did not reward a full athletic scholarship to a woman (black or white) until 1981. That scholarship went to Jo White, a white woman on the cross-country team. White was a talented runner that excited the campus community and continued a legacy of excellence on the women's cross-country team arguably started by Deborah Snaggs, a 1981 Westhampton College graduate.
Snaggs, a black woman, had transferred to the University from Delaware State in 1977. Within her first year, Snaggs had qualified for the Association for Intercollegiate Athletics for Women Championship in the 5000-meter race and "led an assault on the record books [by] setting ten new marks in the State Championship Meet" in 1978. She won numerous state titles and set many school records during her time at the university. Inducted into the Hall of Fame in 1990, Snaggs is regarded as "one of UR's all-time great track student-athletes."