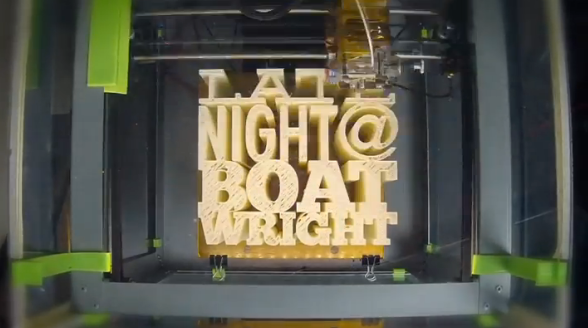 As a collaborate project between University Communications, CTLT, and Boatwright Library, we developed the largest 3D print to be printed on a UR CTLT printer for inclusion in a video that documents the night culture in the library.  The cubic prop measured 180mm (over 7 inches) in its largest dimension and paves the way for large academic 3D printed objects.  The Solidoodle 3 printer can print an object up to 8 in. x 8 in. x 8 in., so we expect it will get more use for printing everything from large molecular models to student 3D design sculpture.
Communications developed the typography and provided a sample to the CTLT for further refinement and extrusion into a 3D shape.  The CTLT imported the design into SketchUp from an Adobe Illustrator intermediary file format. SketchUp allowed us to create the solid object with some hidden support structures to give the letters more rigidity during filming, and we could model the final look and feel of the object for approval.  We conducted a couple scaled test prints and iteratively developed the design for optimal printing.  We then set up the 3D printer in such a way that it could execute the 50+ hour print job while allowing time lapse photography of the printing process to be included in the video project.
To read the article and see the video, please visit the alumni magazine web site.