Editor's note: Arachnophonia is a regular feature on our blog where members of the UR community can share their thoughts about items in the Parsons Music Library's collection. All links included in these posts will take you to either the library catalog record for the item in question or to additional relevant information from around the web.
Today's installment of Arachnophonia is by Music Library student worker, Cole (class of 2021) and features a 2003 album of the American indie rock supergroup The Postal Service. Thanks, Cole!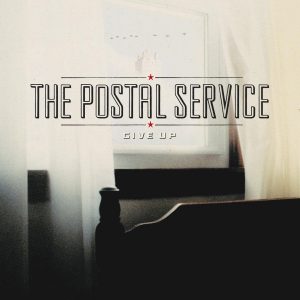 The only album ever released by early 2000's indie pop/electronica supergroup The Postal Service, Give Up remains a staple of indie music and a testament to musical collaboration. The Postal Service consisted of electronic artist Jimmy Tamborello (also known as Dntel) and Death Cab for Cutie front man Ben Gibbard, featuring additional vocals provided by Rilo Kiley front woman Jenny Lewis and Seattle-based indie rocker Jen Wood. Work on the album began in late 2001, and was accomplished by Tamborello and Gibbard sending CDs of the project back and forth through the mail (hence the band's name) for just under a year. The Postal Service was always considered to be a side project by its members – during production Gibbard was also working on Death Cab for Cutie's greatest album to date: Transatlanticism – which is why the collaboration's quality and subsequent success are so profound. Give Up was released on February 19, 2003 through Sub Pop records, receiving near-universal praise and peaking at 45 on the US Billboard 200. The group toured in support of the album from April to August of the same year.
While Give Up enjoyed moderate success in and around the year of 2003, it truly took on a second life once the group's members returned to their primary acts. The album received platinum certification (signifying 1,000,000 units sold) in 2012, nearly a decade after its release. It was the second-ever release by Sub Pop (and currently is still their second-best selling effort) to achieve the status, coming after Nirvana's 1989 album Bleach.
Many people believe Give Up to be Ben Gibbard's greatest work, which only further salts the wound of The Postal Service being an entirely temporary and long gone affair. The Death Cab for Cutie front man's voice arguably fits Tamborella's 80's inspired synths better than the four piece rock instrumentation of his main band. Lyrically too, Gibbard seems to have peaked with the intensely autobiographical songs featured on this album. One of my personal favorite excerpts from the first track, "The District Sleeps Alone Tonight" follows:
It seems so out of context
In this gaudy apartment complex.
A stranger with your door key
Explaining that "I'm just visiting".
I am finally seeing
That I was the one worth leaving.
Or this excerpt from "Nothing Better," in which Ben Gibbard trades verses with Jen Wood, together playing their role as a feuding couple. This verse arrives just as Gibbard's character has just pleaded with his lover to stay with him. Wood's response follows:
I feel I must interject here
You're getting carried away feeling sorry for yourself
With these revisions and gaps in history
So let me help you remember
I've made charts and graphs that should finally make it clear
Prepared a lecture
On why I have to leave
While judging from those two excerpts it may appear that Give Up is entirely ruminations on doomed relationships, thematically a lot of ground is covered, including friendship, memories, and happy relationships. In fact, the most popular song off of the album, "Such Great Heights," opens with:
I am thinking it's a sign
That the freckles in our eyes
Are mirror images and when
We kiss they're perfectly aligned
The album's impressive persistence post-release prompted The Postal Service to release a 10th anniversary edition of Give Up in 2013, accompanied by a supporting tour. Despite rumors of a second album in the works, Ben Gibbard announced in early August of that year that the group's performance in Chicago on August 5th would be their last ever, and the group has since formally disbanded. Although saddened by the destruction of all prospect of a sophomore effort from The Postal Service, I can't help but feel the 'one-and-done' nature of Give Up has helped elevate it into a mythical status within indie rock. It will forever be a personal favorite.