Editor's note: Arachnophonia is a regular feature on our blog where members of the UR community can share their thoughts about items in the Parsons Music Library's collection. All links included in these posts will take you to either the library catalog record for the item in question or to additional relevant information from around the web.
Today's installment of Arachnophonia is by Music Library student library worker, Gabi (class of 2020) and features the soundtrack album for the 2004 film The Life Aquatic. Thanks, Gabi!
The Life Aquatic with Steve Zissou soundtrack
Mark Mothersbaugh, Seu Jorge, et al
What makes a film great? Some may say an Oscar-worthy performance by a lead actor, or the presentation of aesthetically pleasing cinematography. For me, although both of these are important, what really makes a movie stand out is music. Whether it's the soundtrack, the score, or both, the ability to perfectly match a song to a scene is impressive. It can bring the emotions I'm feeling while watching up to another level.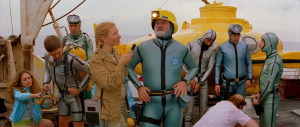 The Life Aquatic with Steve Zissou, directed by Wes Anderson, is a comedy-drama about an oceanographer played by Bill Murray. This film is an excellent example of one that uses a unique background of music to enhance its tone, which is whimsical and quirky.
Mark Mothersbaugh, a former member of the pop group DEVO and a frequent Anderson collaborator, is the composer of the film's score. Five of Mothersbaugh's instrumental tracks appear on the official soundtrack, including "Let Me Tell You About my Boat", which accompanies one of the most famous scenes in the film: Steve Zissou breaking the fourth wall by directly introducing himself to the audience.
The coolest part about this soundtrack is that it features five covers of some of David Bowie's best songs… in Portuguese. The movie itself showcases Seu Jorge performing a variety of Bowie covers including "Rebel Rebel", "Starman" and "Rock 'n' Roll Suicide". Jorge plays one of Steve Zissou's crew members in the movie, and sings the songs with a red beanie on his head and an acoustic guitar in his hands. These covers do not only provide a fresh take on several well-known classic rock songs, but also give the film unforgettable character.
Seu Jorge's work in The Life Aquatic was so memorable that, 13 years after the film's initial release, he is currently on tour performing the covers as an homage to the late David Bowie.