By Ethan Burroughs '18
East End Cemetery is located on the border of Henrico and Richmond, Virginia. It was established in 1897, and an estimated 13,000 people are believed to be buried in East End. The neighboring Evergreen Cemetery often overshadows its presence, which is another African-American cemetery that has fallen into disrepair in Richmond. Some notable figures who are buried in East End include: Rosa D. Bowser, who was the first black teacher hired in Richmond; Hezekiah F. Jonathan, a business owner with the Richmond Planet editor, John Mitchell Jr. (who is buried at Evergreen Cemetery); Dr. Richmond F. Tancil, a Howard University educated doctor and bank founder in Richmond's Church Hill neighborhood; William Custalo, the proprietor of Custalo House, a noted bar and restaurant in Richmond. The cemetery changed ownership a number of times, and is currently owned by the UK Corporation, which lacks the time and the money necessary to provide upkeep to the cemetery; therefore it is up to the families to maintain the gravesites. Unfortunately, this change of ownership has led to much disarray in the process of familial upkeep of gravesites. However, since 2013, John Shuck and groups of volunteers have been working tirelessly to restore East End back to its former state by removing ivy, cleaning up illegal trash dumps, and most importantly, rediscovering and documenting headstones that have been damaged or knocked over. By documenting these headstones, it allowed for this project to become a possibility, since without those records provided by John Shuck and the volunteers, this project of creating a searchable map of burial locations would not be feasible.
The Biology Department at the University of Richmond is working with Friends of East End Cemetery and other volunteers to clean up the cemetery and record data on those buried there. Volunteers have collected GPS coordinates (using a GPS and the Collector for ArcGIS app) of the headstones at the cemetery, as well as collected personal attribute data from the gravestone inscriptions. Local volunteers working on the site submitted the data to Find A Grave, a website that helps people find their family members. Unfortunately, this site does not have options for viewing gravestones spatially, so volunteers also kept a separate spreadsheet in excel with the GPS coordinates hoping to make a searchable map one day. Once the Biology Department got involved, they approached members of the Geography Department to create a database with spatial elements in order for them to store their data about the cemetery in a cleaner, more systematic way. This is a collaboration project between the Geography and Biology Departments and the Bonner Center for Civic Engagement (CCE) to assist in the regeneration of the East End Cemetery. The data collection and review process has been essential to building a database that will feed an interactive and searchable map in the future. Like East End Cemetery, many African-American cemeteries have been forgotten and lost in undergrowth, but this project for East End Cemetery is part of a larger movement in order to reintegrate African-American cemeteries into our history, and to stop such loss from reoccurring.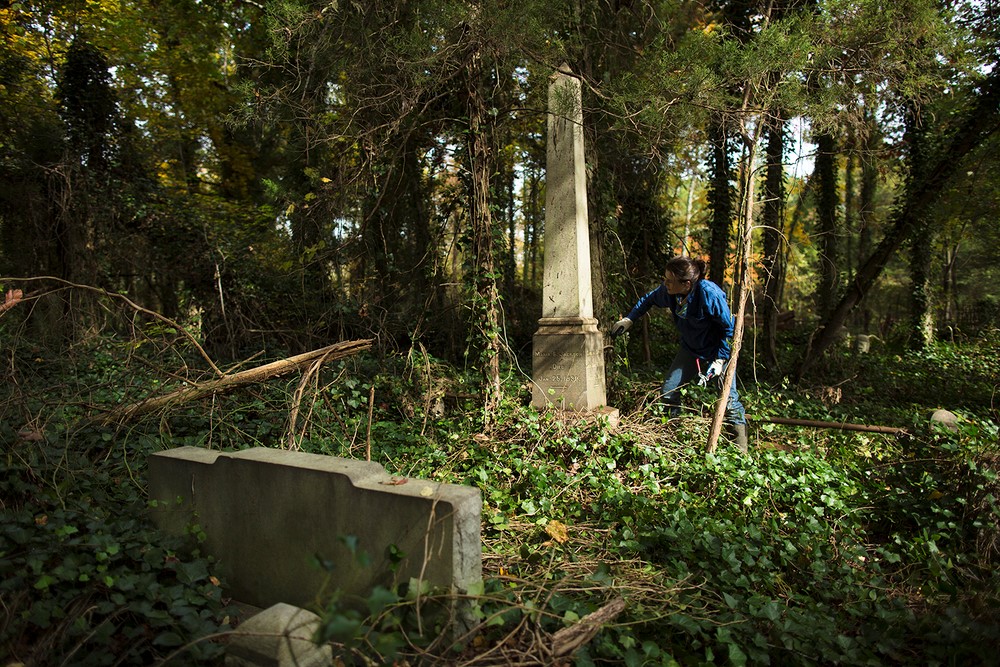 The ArcGIS Collector application for mobile devices has and will be crucial for the continuation of this project. The Collector app can be downloaded onto a person's phone, and can be used as a guiding device in order to lead someone who is looking for a grave to a marked location on a map where the grave should be. This allows those who are visiting East End Cemetery to search through the data that has been collected on their mobile device, thereby allowing one to search for a specific person's gravesite and be led to the headstone by the spatial software that the device operates on. Using the Collector app would not only allow someone who is looking for a gravestone to lead themselves to the location of the grave, but it would also allow people like John Shuck and other volunteers to enter newly found grave positions while they're working in the field, rather than having to mark their locations down on paper and then transferring the data over at a later time.
In the coming year, scholars and volunteers from University of Richmond, Virginia Commonwealth University, and the surrounding Richmond community are working to expand the scope of the project and ensure this historic site is accessible to all and contributes to the history of Richmond and our region.
Examples of the Collector for ArcGIS Interface
***Photos of East End volunteer group courtesy of Brian Palmer.