El Atlas del Cambio Climático de las Américas es un proyecto en colaboración con el Instituto Panamericano de Geografía e Historia (PAIGH) y la Dra. Nancy Aguirre de la UPTC, la Dra. Fabiola Barrenechea de la UBO, el Dr. Fernando López Martín de IGEAR y la Universidad de Zaragoza entre otros. El proyecto atlas implica un Atlas dinámico basado en la web con estudios de casos de impactos particulares del cambio climático en forma de StoryMaps.
The Atlas of Climate Change of the Americas is a project in collaboration with the Pan American Institute of Geography and History (PAIGH) and Dr. Nancy Aguirre of the UPTC, Dr. Fabiola Barrenechea of ​​the UBO, Dr. Fernando López Martín de IGEAR and the University of Zaragoza among others. The atlas project involves a dynamic web-based Atlas with case studies of particular impacts of climate change in the form of StoryMaps.
---
Se ha lanzado una versión beta del sitio web del Atlas de cambio climático de las Américas, que se puede ver aquí.
A Beta version of the Climate Change Atlas of the Americas website has been launched and can be viewed here.
---
También puede descargar esta presentación impartida en la conferencia de las Naciones Unidas sobre el Cambio Climático en Madrid, España en diciembre de 2019.
You can also download this presentation given at the UN's Climate Change conference in Madrid, Spain in December 2019.
---
Los estudiantes crearon un tutorial en español sobre cómo hacer un StoryMap. Haga clic en la imagen para descargar una copia.
Students created a Spanish tutorial on how to make a StoryMap. Click on the picture to download a copy.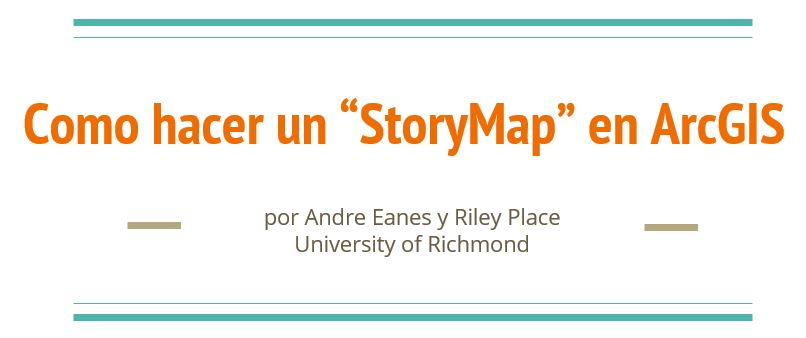 ---
Los estudiantes también tradujo un video tutorial de ESRI StoryMap y proporcionó subtítulos para hablantes de español.
Students also translated an ESRI StoryMap video tutorial and provided sub-titles for native Spanish speakers.