It is that time of the year again, when seniors are finishing up their coursework and preparing for the next steps in their careers. This year is a particularly strange one with COVID-19 impacting higher education (and the entire world!). Our seniors are not on campus – we don't get to see their relief of finishing their last gen ed classes, their accomplishments at the honors' convocation, or their excitement when they get their diploma at commencement. In addition, we won't be able to counsel them in person about their plans for after graduation or their worries about leaving behind their friends and comfortable environment. However, it doesn't diminish how proud we are of what they have done during their 4 years at our schools.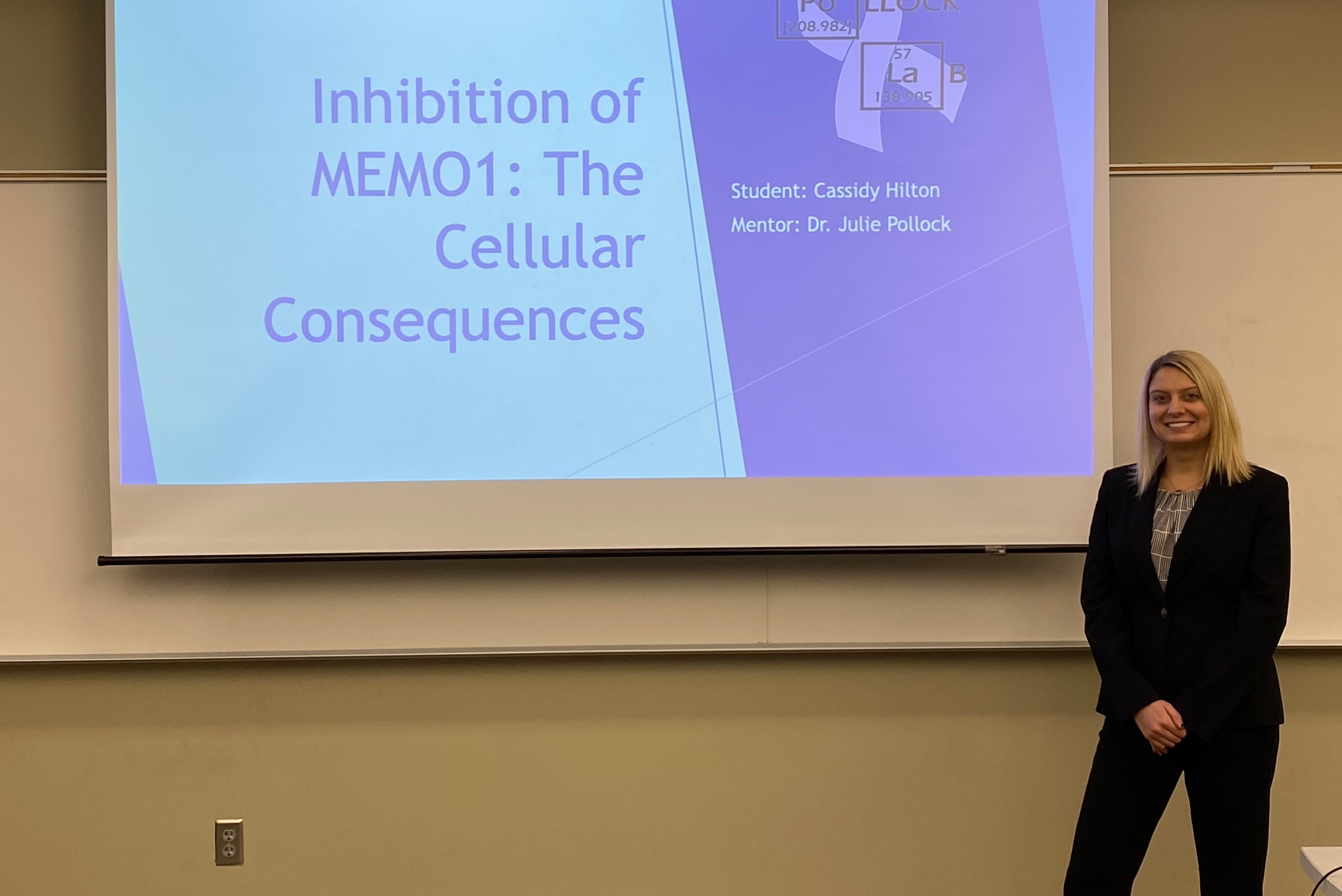 In the Pollock lab this year, we have two graduating seniors. First up is Cassidy Hilton. Cassidy is a chemistry major who has worked on the MEMO project for the past two years. I first met her during a FaceTime call while she was studying abroad in St. Andrews. Since joining the lab, she has become our resident cell culture expert and has trained a number of students in techniques. She has brought a lot of joy to the group and some delicious food as well! Let's get down to the questions and hear what Cassidy has to say about her experience in the group:
Q1. Why did you decide to join the Pollock lab?
Cassidy: I decided to join the Pollock lab because I felt like I had a special connection to it from the start. When I found out that Dr. Pollock researched breast cancer, I immediately knew that this was the lab I was meant to join. My mom is a breast cancer survivor, so I was drawn to the idea of researching the disease. I hoped that I could contribute more information to the research community as a whole during my time at Richmond.
Q2. What was your favorite part about your research experience?
Cassidy: I definitely cannot choose just one part of my research experience as my favorite. Developing a relationship with Dr. Pollock was invaluable and I could not have asked for a better research mentor. Additionally, I have become experienced in valuable lab techniques and data analysis. Last, but not least, one of my favorite parts about my research experience was making lifelong friends!
Q3. What do you plan to do after graduation?
Cassidy: After graduation, I am planning to attend the Pathologists' Assistant program at Eastern Virginia Medical School.
Q4. As you reflect back on your time at University of Richmond, what advice would you give to an incoming student who was interested in your career path?
Cassidy: I would say that research is a valuable experience for any incoming student, but especially those interested in entering the healthcare field. In addition to joining a research lab, develop strong relationships with your professors and healthcare advisors. Going to such a small school allows students great opportunities to become close with faculty and staff. Developing these relationships not only provides you with a strong support system, but also great individuals to write letters of recommendation for graduate school or job opportunities. 
Cassidy – I am so proud of what you have done at the University of Richmond and in the Pollock lab. It is clear that you are an intelligent, accomplished, determined person and I know that will serve you well at EVMS. I am excited to hear about your adventures in the PA program and as you move into it as a career. You have opened my eyes to a new field at the interface of medicine and research. Good luck and keep in touch always!
~jap