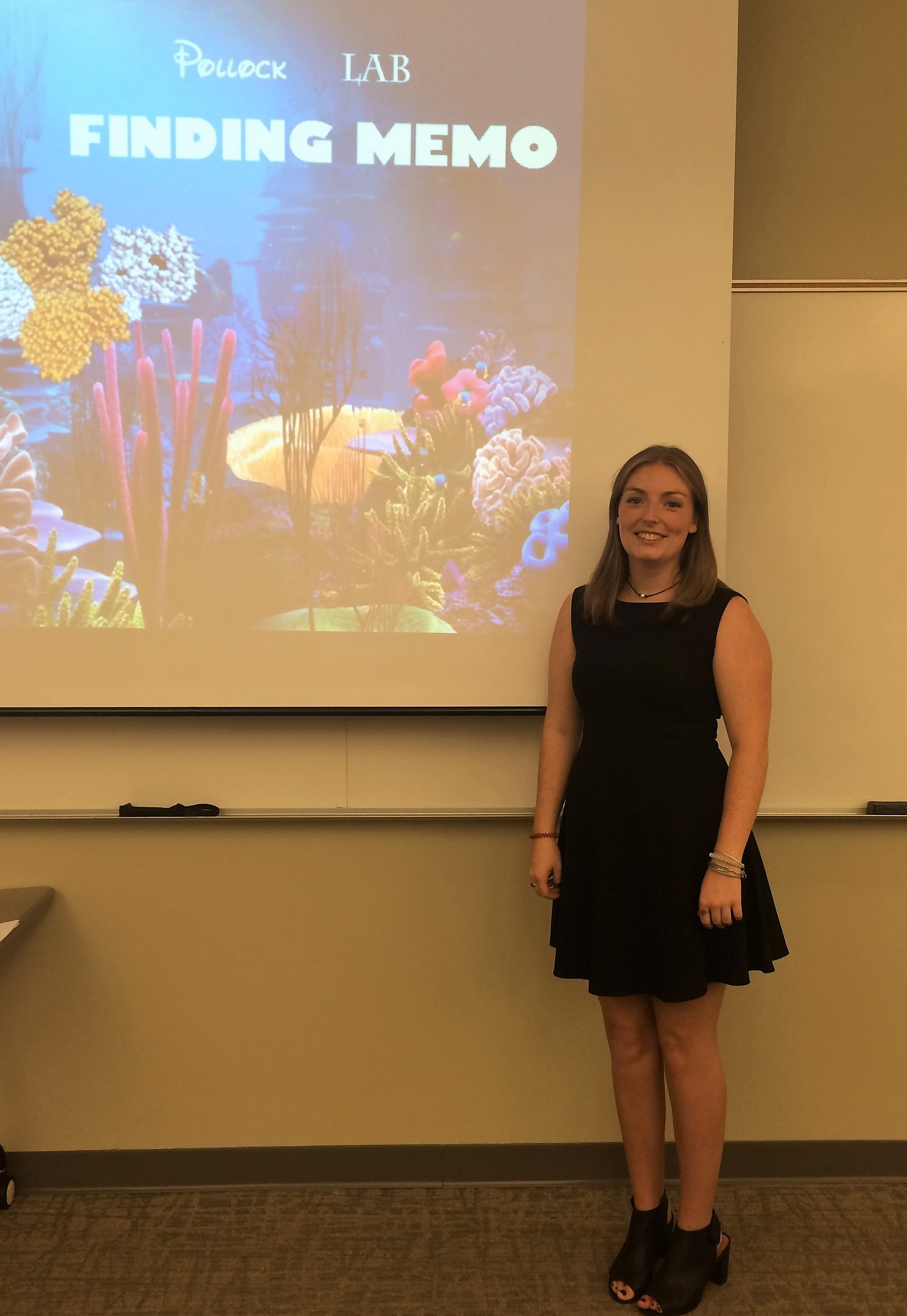 Another graduating senior, Madeline Newkirk, a chemistry major who is headed off to graduate school to get her Ph.D. next year. This is probably one of the hardest posts for me to write. Last year when my first set of students graduated, it was hard: they were competent and excited and had accomplished so much as the Pollock lab was established at UR. The founding members jumped on these crazy ideas that I had formed and really got things going. And although Hyejin, James, and Thanh all graduated in 2017, Maddie was there for beginning as well. When I introduced her for her senior seminar in the fall, I said that Maddie has been a member of the Pollock lab for as long as I have. And that is really a true sentiment. Her handwriting will stay forever (or at least for a long time) on the drawers of the lab and her developed protocols will be used by many students to come. Surprisingly, Maddie's project was the most "biochemical" in technique and she is my first chemistry major (the others were BMB or biology). She's had a good grasp on everything and we are working on her first publication now! Well, enough from me, let's hear what Maddie has to say.
Q1. Why did you decide to join the Pollock lab?
Maddie: I knew I was interested in participating in undergraduate research, so I reached out to Dr. Pollock during the first semester of my freshman year. I was interested in her research because it encompassed many different fields and because breast cancer is a predominantly female issue.
Q2. What was your favorite part about your research experience?
Maddie: My favorite part was getting to know Dr. Pollock and my other lab mates. I enjoyed all of our lab functions at Christmas and during the summers.
Q3. What do you plan to do after graduation?
Maddie: I am going to be pursuing a Ph.D. at the University of Maryland in Chemistry.
Q4. As you reflect back on your time at University of Richmond, what advice would you give to an incoming student who was interested in your career path?
Maddie: I would advise them to get involved in research at UR as soon as they could.
Maddie- thank you for coming to my office as an eager first year before your classes had even started. Thank you for your enthusiasm for "finding MEMO" and for your leadership when a lot of others joined the project. My advice to you as you enter grad school is to find something you enjoy working on. There will be days when it will be hard (LOTS of days!) but keep focused, learn as much as you can, and push yourself everyday. And come back and visit! Best of luck!
~jap