"How did they get the jail underground?"
This was the question a fourth grader at Swansboro Elementary asked Selden Richardson, following his presentation about significant sites in Richmond's history. It was in reference to the notorious Lumpkin's Slave Jail which was unearthed in the Shockoe Bottom neighborhood of the Virginia capital and formerly known as the "devil's half acre."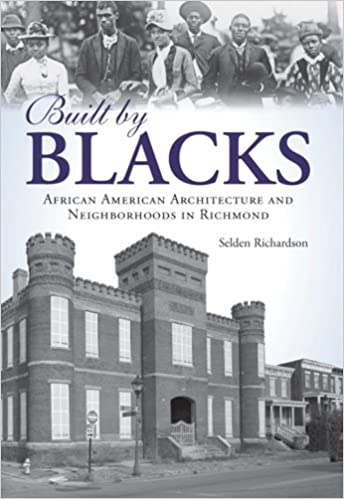 The question was excellent in a straightforward way. How did Lumpkin's Slave Jail end up buried so far under the surface of today's streets? But it was also a metaphor for how often history, especially history that is uncomfortable to think about, is obscured below the surface of official records, textbooks, and public memory.
Mr. Richardson, an architectural historian and author of the book Built by Blacks: African American Architecture and Neighborhoods, was one of the visiting artists working with Swansboro teachers Erin Conmy and Mary Ann Gryboski in the 2010-2011 school year. Their project, Studying the Past to Embrace the Future, was made possible by a Partners in the Arts' Engaging Creative Thinkers (ECT) Award. It explored the history of Richmond and of the students' own south Richmond community.
The project integrated Virginia Studies with an examination of the city's architecture and monuments, as well as less familiar sites. It considered how these sites may tell varied stories about the past. Working with visiting author Jeannette Drake, students explored a range of literary genres as they read and wrote about Richmond history. Visiting photographer Brian Barker helped students create images for their journals. Digital cameras for the students were generously provided by Richmond Public Schools (RPS).
Dorothy Rice, the Literature and History Resource Teacher at the RPS Arts and Humanities Center, dreamed up the project based on her deep interest in the history of Richmond.  At first she thought it might be best for older students, but Mary Pierce, Swansboro's principal, suggested it would be perfect for her school's fourth graders. This has proven to be the case, as seen by the enthusiasm, curiosity and imagination students brought to Studying the Past to Embrace the Future.
Mr. Richardson led the fourth graders on a walking tour of some of the sites associated with Richmond's history as a major slave market. They walked through a passage off Main Street to an area – now a parking lot – where slave auctions once took place. "You are walking in the footsteps of the men, women, and children who were sold as slaves," Mr. Richardson told students. Soon, they were at the site of Lumpkin's Slave Jail, where Mr. Richardson used a box full of sand and Lego blocks to illustrate how the jail was buried as a result of hill-grading and highway construction.
The visit also included the African Burial Ground on Broad Street, the Civil Rights Memorial in Capitol Square, and finally the Reconciliation Statue at Main Street. Mr. Richardson pointed out to students the words at the base of the Reconciliation Statue:
Acknowledge and forgive the past, embrace the present, shape a future of reconciliation and justice.
"Shaping the future," Mr. Richardson said to the fourth graders.  "That's your job."
More information about these sites can be found at the Richmond City Council Slave Trail Commission.