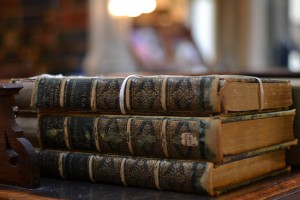 Below are the books you are required to purchase for this class
(all available at the Campus Bookstore)
Please bring a copy of the appropriate text with you, following the course schedule.
Plato, The Republic, Translated by C. D. C. Reeves, 3rd (Hackett Publishing, 2004).
Thomas More, Utopia, Translated by Clarence H. Miller (Yale U. Press, 2001)
Jean-Jacques Rousseau, Origins of Inequality, Translated by Maurice Cranston (Penguin, 1985)
Flora Tristan, Utopian Feminist: Her Travel Writings and Personal Crusade, Edited by Doris and Erik Beik (Indiana U Press, 1993)
Joseph Bizup and Joseph Williams, Style: Lessons in Clarity and Grace. 11th edition (Longman, 2013)
We also have several short essays and articles to read for class. You will find these on electronic reserve and on our BlackBoard website (https://blackboard.richmond.edu). If you have any trouble getting access to any of the required reading, let me know immediately.