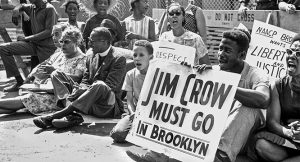 Hi all,
As I've been working on my bibliography for this week's digital toolbox assignment, I've been thinking a lot about the challenge of working with primary sources in the K-6 classroom — where to find them, how to adapt them, and how to teach them. I'm particularly interested in figuring out how to pull together a collection of documents that will sustain a class through an entire unit.
The topic I chose for my bibliography is racial segregation and the rise of Jim Crow laws (USII.4c), typically taught around 6th grade (I think), and I came across a resource that speaks to many of the above questions. The Jim Crow Museum at Ferris State University is home to a large collection of lesson plans and teaching materials, as well as artifacts and primary source documents, that not only cover the Jim Crow era, but slavery and the Civil Rights movement as well.
What I particularly love about this resource is that the museum's collection goes in-depth into both the history of Jim Crow racism (the section on origins is fantastic in terms of the range of documents — though you, of course, want to choose your documents with awareness and sensitivity and adapt them for the classroom accordingly), and the history of resistance to Jim Crow. The Battling Jim Crow section contains work by artists who respond to, critique, and re-contextualize the images of the Jim Crow era, and I can imagine any number of creative lesson plans that could be developed using the art highlighted there. There's also a very thoughtful post on how the museum's staff feel about working with objects that are hateful; the post brings into view the work of curators and museum educators, and I think it could be really cool to talk about that kind of thing in the classroom.
Anyhow, this is just what I've been reading this week. I'd love to hear about any primary source resources you've found while working on your bibliographies. What topics have you chosen and where have you found the best teaching materials?