1919 marks 400 years since the first enslaved Africans were brought to North America. Our history is forever entwined with this event. The history of slavery is the history of America. Much of this nation was built on the backs of slaves.
Read this piece for a bit of history.
1619: 400 years ago, a ship arrived in Virginia, bearing human cargo
While many institutions around VA are recognizing this anniversary, the University of Richmond has chosen to focus on 1919 and the legacies of race.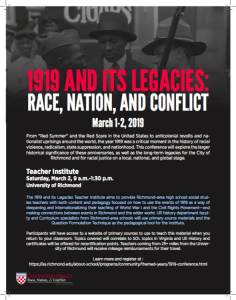 On March 1st and 2nd, UR will host a conference entitled 1919 And Its Legacies: Race, Nation, and Conflict. On Friday there will be panel sessions on the topics of Suppression & Surveillance and Revolutions, Global & Local. The day will culminate in a keynote speech delivered by Dr. Ibram X. Kendi, Professor of History and International Relations and Director of the Antiracist Research and Policy Center at American University. On Saturday, there will be a free teacher institute.  The Teacher Institute aims to provide Richmond-area high school social studies teachers with both content and pedagogy focused on how to use the events of 1919 as a way of deepening and internationalizing their teaching of World War I and the Civil Rights Movement—and making connections between events in Richmond and the wider world.
Even though the institute is aimed at middle and high school teachers, anyone with an interest in history and social studies teaching will benefit.
See this link to learn more and/or register.
https://as.richmond.edu/about-school/programs/community/themed-years/1919-conference.html