Note: if you have feedback about these announced changes, please visit the feedback form .
As mentioned in a previous post to this new site, Blackboard Inc. is discontinuing the no-cost mobile access to UR Blackboard via the company's Apple and Android apps.  This change began the afternoon of September 17th with the availability of an iOS upgrade to the Blackboard Mobile Learn application via the Apple App Store.
Note: at the time of this announcement posting, the "old" iOS app for Blackboard Mobile Learn still works with UR Blackboard without requiring the in-app subscription of $1.99 per year or $5.99 for life  licensing.  One theory is that as long as you do not update the application through iTunes or the App Store, it may continue to give access to UR Blackboard until it is explicitly disabled or becomes incompatible.    The obvious downside is that the "old" app is/was restricted to wi-fi access for iOS users and cellular data access for Sprint users (and no access for other carriers).  Another negative is that it would not receive new features as the app developer adds them.
The Updated Application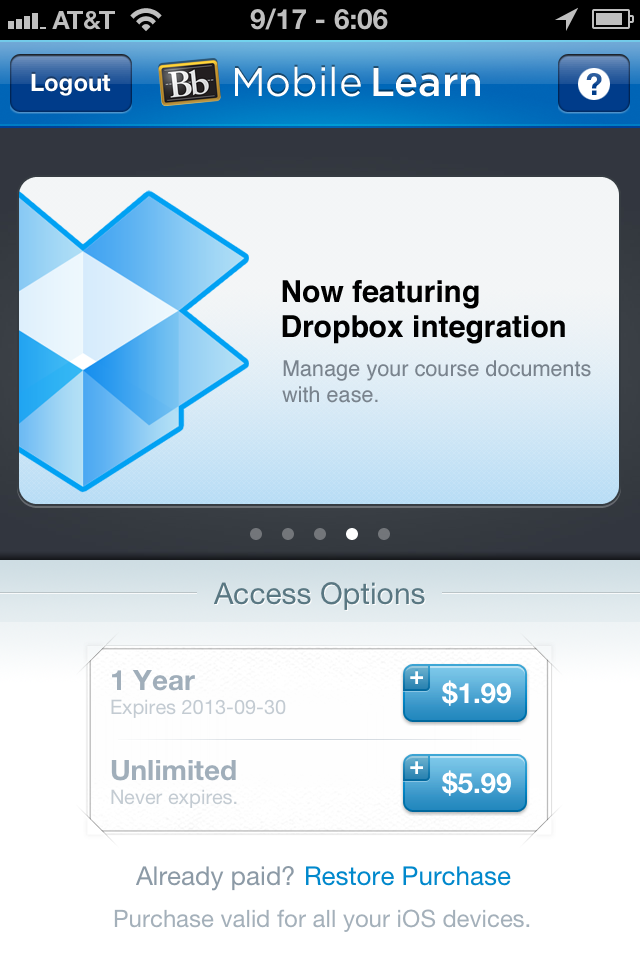 The newly upgraded application allows a member of the UR community to first attempt logging into his/her UR account to ensure there is university access to Blackbord Mobile Learn.  S/he is then treated to the screen to the right, requiring the purchase of a $1.99 subscription for one year's access or a $5.99 subscription for life for access via wi-fi and cellular data for iOS or Android devices (the iOS subscription most probably does not provide access for the Android app and vice-versa).
Recommendation
Please note that Information Services makes no recommendation for the university community to purchase personal licenses (see disclaimers below). In fact, if you have a tablet (such as iPads and Android tablets), you can gain access to UR Blackboard through the device's web browser without the mobile application.  Moreover, there is a theory that declining to upgrade the existing app may continue to provide access to UR Blackboard without the subscription fee – at least for the time-being.
If one chooses to purchase the new personal license option and gain access to the UR Blackboard system, our recommendation is for you to disallow the app to store your username (netid) and password in the app. This will allow for the least risk for data breach as your login information and course materials will not be cached on the device.
Disclaimers
Information Services makes no recommendation for or against subscribing to the personal license offered in the Blackboard Mobile™ Learn app. However, please note that Blackboard Inc. has not provided a university Terms of Service or other agreement regarding this platform so there can be no assurances that Blackboard Inc. will not further change the terms of the app, the data security of the application, or impact on the UR Blackboard system. Therefore, although there is no plan to disable access to UR Blackboard from the mobile apps, there could come a time that Blackboard discontinues it altogether or that the University of Richmond determines it to be in breach of data security standards and university policies and must disable access.
There is no personal license option for those with BlackBerry® or Palm® mobile devices, and users with those devices will not be able to be connect to the UR Blackboard system unless they can use the web browser on those devices.
More Information
For more information, Blackboard has a site devoted to the Blackboard Mobile Learn product.
For questions or concerns, faculty are encouraged to contact their CTLT liaison, and all can contact the UR Blackboard team at blackboard@richmond.edu or 804-287-6860 (Monday through Friday, approximately 9am – 5pm).
Feedback
If you have any comments to make regarding this change, please visit the feedback page.  We appreciate your interest and time.