Editor's note: This week "Listening In" is inaugurating a new feature called Spider Sounds. We're inviting members of the University of Richmond community to share their thoughts about CDs (or other items in the Parsons Music Library's collection). The links included will take you to the library catalog record for the item in question. Our first post comes from James, one of the library's student workers. Thanks, James!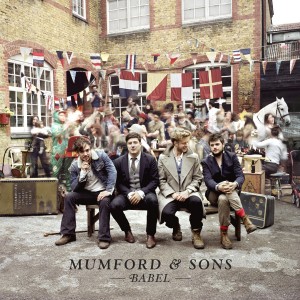 2012: In the spirit of "If it ain't broke, don't fix it," British rock band MUMFORD & SONS released BABEL, three years after their multi-platinum debut album, SIGH NO MORE. Now, I'd be lying if I said BABEL didn't sound a lot like its predecessor, but there's something about that signature "Mumford" sound that my ears crave.
Rustic, pure and clean. Think Hemingway, Teddy Roosevelt, and Ron Swanson gathered 'round, singing campfire songs in the woods. It's no accident – there is a formula for this. The recipe calls for raspy, powerful vocals with acoustic guitar, intimate lyrics, a banjo, and not much else – a minimalist arrangement enough to break your heart and put hair on your chest at the same time.
Luckily for you, we've got BABEL right here at Parsons Music Library. So if you need a break from EDM or plugging away on the clarinet – not that there's anything wrong with that! – come by and check out the unadulterated musical stylings of Mumford & Sons.