Editor's note: Arachnophonia is a regular feature on our blog where members of the UR community can share their thoughts about items in the Parsons Music Library's collection. All links included in these posts will take you to either the library catalog record for the item in question or to additional relevant information from around the web.
Today's installment of Arachnophonia is by Music Library student worker, Gabi (class of 2020), and features Blackstar , the 25th and final album from English musician, David Bowie. Thanks, Gabi!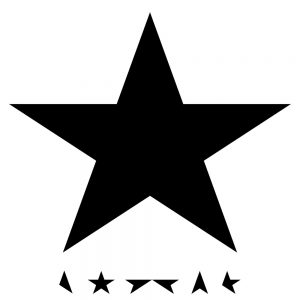 On what would have been David Bowie's 71st birthday, an HBO original documentary titled, David Bowie: The Last Five Years premiered on the channel. The film explores the end of Bowie's career, ranging from his last ever live performance in 2004, to the release of his final album, Blackstar, and corresponding music videos. The film revealed a new side of Bowie to me, and as a longtime fan, I was intrigued by the processes behind his later work, which he kept so concealed from the public–until now. It has inspired me to write about Bowie's final album, his swan song, Blackstar.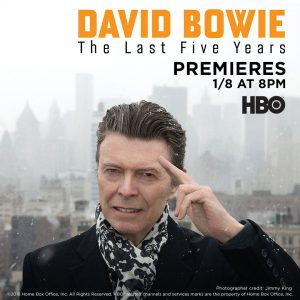 Blackstar came out when I was a senior in high school. I had listened to Bowie's complete discography throughout my teenage years and was caught by surprise when he released a full-length album in 2016. Upon first listen, the album is very unique compared to his others, which says a great deal considering every one of Bowie's albums represents a different stylistic era of Bowie. The album is concise, featuring only 7 tracks and a running time of 41 minutes. A new influence of jazz is also noticeable throughout the record, especially on track 4: "Sue (Or In a Season of Crime)". This track featured collaborators like Maria Schneider, a notable jazz musician and composer. Bowie even cited Kendrick Lamar's To Pimp a Butterfly, an album that fuses hip-hop and jazz, as an inspiration for this choice.
This jazz influence overtakes that of rock'n'roll, which many would associate as Bowie's main style. There is also something distinctly darker and ominous in the sound of Bowie's voice on this album as compared to others. This, paired with the mix of new, experimental styles, made the listen of Blackstar a unique one for a Bowie fan. What would he do next? Did Blackstar mark a definite new era in Bowie's sonic exploration?
Two days after the album's release, before having much time to process or interpret this new sound, David Bowie passed away from liver cancer. The world was heartbroken, as the disease had been kept a secret from the public since its inception. It was not until his passing, however, that the public uncovered the true genius behind Blackstar: it is encrypted with secret messages that allude to Bowie's death.
In the title track, Bowie sings,
"Something happened on the day he died
Spirit rose a metre then stepped aside
Somebody else took his place, and bravely cried
(I'm a blackstar, I'm a blackstar)"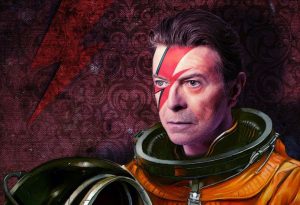 Throughout his career, Bowie sung about space in a myriad of ways. On the song "Star", from his 1973 album The Rise and Fall of Ziggy Stardust and the Spiders from Mars, he calls himself a rock n roll star, but now, he has faded to black. In the music video for Blackstar, we even see a nod to Major Tom himself in the opening shot, as a man in a space suit looks up at a gigantic, black star.
Track 3, "Lazarus", opens with the lines,
"Look up here, I'm in heaven
I've got scars that can't be seen
I've got drama, can't be stolen
Everybody knows me now"
Here, Bowie is literally calling to his listeners from the afterlife, reflecting on his time as a public figure. The corresponding music video features Bowie lying tensely in a hospital bed, and eventually he is dragged into a dark closet, almost like he was dragged away from life into death.
Tony Visconti, longtime producer, collaborator, and friend of Bowie, said that this album was Bowie's "parting gift" to his fans. Two years after his death, the gift still resonates, and the musical risks he took throughout the project are reminders that even in his weakest days, Bowie was an innovator, and will always be remembered as one.