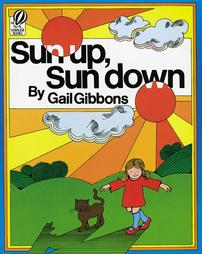 Sun Up, Sun Down takes the reader through a day in the life of the sun and some of the possible weather changes that may affect the weather. Writer and illustrator Gail Gibbons uses a sense of fun and fascination to present basic facts about the sun and various other weather patterns.
"The sun wakes me up. It rises in the east and shines through my window." Gibbons uses a narrative story telling form, taking the reader through the sun's and the main character's day. From the moment the story begins the main character serves as a typical child asking questions about the sun and informing readers about certain characteristics of the sun; such as it is too bright to look into and it helps plants grow. In the back of the book, Gibbons even includes "Some Sunny Facts" that will help intrigue young readers to read further into the subject.
Doubling as the illustrator, Gibbons uses generic, yet bright colors to fill the pages. The pictures clearly illustrate what the words on the page are saying and help demonstrate some concepts that children may find tricky: such as how far away the sun is, which way shadows face, prisms and rotations. The words are clearly separated from the pictures, which leaves clean lines to read and more space for the picture to develop.
Curriculum Connections
The reading level of Sun Up, Sun Down is more advanced and I would recommend it for grades 3-5, however, the ideas and pictures are equally appropriate for younger students if the book is read to them. Gibbons presents Earth study information in this book such as shadows, prisms, rotation, sun facts, rain and agriculture. The pictures can help students determine certain characteristics of the sun in relation to the Earth, as well as a weather related segment and light (such as rainbows, bending light and prisms). In Virginia, this book relates to science SOL 4.7 a-c.
Additional Resources
Book: Sun Up, Sun Down
Author/Illustrator: Gail Gibbons
Publisher: Voyager Books
Pages: 32 pages
Grade: 5-9
ISBN: 015282782X