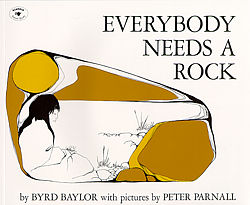 Some may say a rock is just a rock. But after reading Everybody Needs A Rock you will realize that is just not true! Bryd Baylor's story tells of how everyone needs to have their own rock and the ten rules that must be used in finding one's special rock. This is a great book that can be used to present many different subjects to a class, such as scientific investigation, earth science, or an appreciation for nature, just to mention a few!
While Everybody Needs A Rock may not be the quickest approach to teaching children about rocks, it does provide a creative standpoint that requires the reader to stop and contemplate nature and its importance, especially rocks. The ten rules bring up issues such as where rocks are located, how it might be on a mountain, or "even an alley, even a sandy road." Then there are multiple rules that require the use of more of the senses than the typical sighting of a rock. The characteristics of rocks are also addressed, all the different sizes, shapes, and colors that rocks appear as. Another important concept that is presented within the ten rules of picking a rock is self-confidence, which doesn't quite fit in the science category like the other concepts, but is also a very important concept that everyone needs to grasp.
Along with Baylor's creative viewpoint that appears in the writing is Peter Parnall's creative pictures found on every page. The pictures are more of abstract sketches in just two colors, black and brown. While it may not sound like the most thrilling book to entertain children, it does provide an unique opportunity for kids to be subjected to a less traditional sense of art.
Curriculum Connections
There are many directions a teacher can take when using Everybody Needs A Rock as an introduction to a new topic. For Virginia teachers, this is a great way to fulfill the Science SOL 4.8c, which requires students to investigate and understand important Virginia natural resources, especially minerals, rocks, ores, and energy sources. As mentioned before though, there are other paths that can be perused as well, such as the senses, and scientific investigation.
Additional Resources
Here is an already prepared five day lesson plan filled with activities for students to do after reading Everybody Needs A Rock.
Use this recipe to make Sedimentary Rock Snacks for the class to enjoy.
Book: Everybody Needs A Rock
Author: Byrd Baylor
Illustrator: Peter Parnhall
Publisher: Aladdin Paperbacks
Publication Date: 1974
Pages: 32 pages
Grades: K-5
ISBN:0-689-71051-8