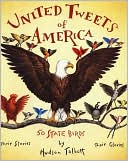 In most states, 4th grade is the year kids learn state history. In addition to learning about important people and places, they learn about things like the state flag, flower, bird, and more. I'm always looking for interesting ways to share this info, and I'm happy to report that I've found a gem of a book that only introduces state birds, but many other fun facts about the 50 states. Hudson Talbot's book entitled United Tweets of America presents, as the cover mentions, "50 states birds, their stories, their glories."
The book opens with a double-page spread map of the United States. Surrounding the map are images of each state bird in a small picture frame. A bald eagle holding a microphone speaks to readers saying:
Good evening, everyone, and welcome to the United Tweets of America Pageant. As your national Big Bird, I have the honor to introduce the fine feathered Americans who represent this great land. So here they are …
A turn of the page begins the parade of states, led by the bird of Alabama. Many of the birds in the line are talking to the crowd, themselves or other birds. Alabama's bird says "Howdy, y'all!" while waving to the crowd. Arizona's bird says "We're birds. Why are we walking?" Connecticut's bird turns to the rooster behind him and says "This is a no-crow zone." While this parade begins, the narrator (bald eagle) announces them by saying:
LADIES AND GENTLEMEN, THE PARADE OF STATES! From Alabama to Wyoming, each one is a winner . . . And now we'll tell you a little something about each bird and the state they call home.
What follows are fifty-one (D.C. is included) fun- and fact-filled pages of information. Each page has an outline of the state with a star locating the capital, the name of the state along with its nickname and capital, a picture of the bird accompanied by information about it, as well as other facts about the state. Here are a few things I learned while reading this entertaining and fancifully illustrated book.
Hawaii – The state bird is the Nene. It is the rarest state bird, having been hunted to near extinction. Currently about 800 nenes exist in the wild.
Iowa – The state bird is the American Goldfinch. There are approximately five hogs for every human in Iowa.
Maine – The state bird is the black-capped chickadee. Main supplies 90% of all lobsters consumed in the U.S. It also supplies 99% of the blueberries and 90% of the toothpicks.
Seven states have adopted the Northern Cardinal as their state bird.
I won't tell you how it ends, or who wins the pageant. Let's just say it's a slam-bang finish.
I can't really do justice to this book in a written review, as half the beauty lies in the clever illustrations. Readers will want to spend time looking closely to see what the birds are doing and saying. I thoroughly enjoyed this book and am looking forward to sharing it with teachers and their kids this fall.
Book: United Tweets of America
Author/Illustrator: Hudson Talbot
Publisher: G.P. Putnam's Sons
Publication Date: 2008
Pages: 64 pages
Grades: 1-5
ISBN: 978-0399245206
Source of Book: Personal copy purchased at a local independent bookstore.
This post was written for Nonfiction Monday. Head on over to Anastasia Suen's blog and check out all the great posts highlighting nonfiction this week.