26 April 2016
This past weekend I was able to attend another event organized by Thames21. However, this one was a kind of short course rather than a volunteer clean up event. It was hosted in Manor Park, which is in the southeast part of London. The course was taught both indoors and outdoors, so I was able to get the best of both worlds with a classroom atmosphere along with more hands-on learning. This specific course was concerning invasive non-native species in the UK and I really learned a lot!
Non-native species are considered any organisms that were introduced after the last ice age (about 10,000 years ago!). However, only a fraction of these species are considered invasive. Invasive species are those which cause a loss of habitat for native species, erosion, disease, and other problems. Invasive species tend to be generalists, hardy, and out-compete native species. Invasive non-native species are the second biggest cause of biodiversity loss after habitat destruction and the global costs of controlling invasive non-native species in $900 billion. The UK alone spends about $1.7 billion on this issue, with about 2,000 – 3,000 non-native species in the UK today (not all of which are considered invasive).
Many of the invasive non-native species in the UK cause problems with the country's waterways. In London, 2/3 of the drinking water comes from the Thames; the river is also used for services such as water to clean with, sewage treatment, industrial processes, transport, recreation, and provides habitats for wildlife. London is also a watershed environment (called a catchment on this side of the pond), so the bodies of water are all interconnected and sensitive to change. This environment is therefore sensitive to invasive non-native species such as Giant Hogweed, Himalayan Balsam, Japanese Knotweed, and Chinese Mitten Crabs. After learning about these species as a class, we waded along a nearby stream and identified some of the plants we had discussed. It really drove the point home that invasive non-native species really are a problem to the London community and the UK as a whole.
Much has been done to combat this problem. Legislation like the Wildlife and Countryside Act (1981), which made it illegal to release non-native animals into the wild, and the Environmental Protection Act (1990), which classified soil containing invasive non-native species as controlled waste, really help to control the spread of these organisms. The responsibility to control invasive non-native species is also put on the individual landowner; it is considered the duty of the landowner to eradicate invasive non-native species from their property and these laws seem to be heavily enforced.
Below are some examples of invasive non-native species that the UK is trying to control:
7 April 2016

Hello again! Last weekend I volunteered with Thames21 to help clean up Queensbury Park. The park was actually quite far from where I'm staying on campus, so the lovely people I was volunteering with said I must have been "quite keen." I was surprised to be one of the youngest people there; in fact, there was only one other person who was younger than me. Lorraine and her husband Alan (second from the right and second from the left, respectively) live in the local neighborhood and had even made flyers to encourage other locals to come. Despite our small numbers, we managed to clear away 20 bags of trash! People enjoying the park that day were really appreciative, as we got a few encouraging remarks from passersby. Upon my arrival to Goldsmiths, I was surprised that there weren't any societies with a focus on environmental justice or volunteer work of this nature. It seems that in the UK, it isn't very fashionable or cool for people my age to volunteer — and this isn't just my impression! The organizer of this event from Thames21 actually said just that to me. Thames21 is definitely well organized and dedicated. They explained that the small body of water behind us was actually redirected water flow and had only recently formed. It was the primary focus of our cleaning, after which we expanded to clean a good bit of the surrounding area. The park looks much better for it. Hopefully by seeing us working to clean up the park and seeing the flyers, people will leave less trash behind.
7 March 2016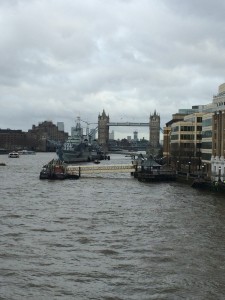 I've been in London now for about two months and the time really has flown! This is a view of the Thames and Tower Bridge from where I was standing on London Bridge. The Thames used to be called the Big Stink, since people were dumping their wastes in it for so long. Thankfully, a lot has been done to clean it up and it no longer has a noticeable odor. From what I can tell, the locals seem to think that the Thames is a success story, with no more work needing to be done to keep it clean and preserve it. I'm excited to find out whether this is true. Stay tuned!

About Me:
Hello! My name is Alex Harter and I am a student majoring in Psychology and Criminal Justice at the University of Richmond.  I grew up in Virginia and have lived in the US my entire life;  I've actually never been overseas, so I'm very excited to be studying abroad in London, UK next semester.  For fun, I enjoy running, reading, and going to see shows (concerts, movies, plays, etc.).  I'm really looking forward to my semester in London and getting involved in the local community where I'll be studying.  I'm most excited for the community engagement — I think it will be a very rewarding and immersive experience — and learning more about the history and culture of the city.
Community Engagement:
The United Nations Environment Programme lists the impact areas of tourism on the environment; water is the first on the list (United Nations Environment Programme, n.d.). Fresh water is depleted in areas where there is a lot of tourism and there also tends to be a lot of pollution in these areas.  London is one of the most populated cities in the world and one of the most visited; the BBC reported 17.4 million tourists visited the UK capital in 2014 alone ("Record-breaking Number of Tourists Visit London in 2014," 2015).  Furthermore, a recent article found that "tourism is not developing sustainably with respect to climate change" (Peters an Landré, 2012).  This means that the emissions caused by the tourism industry are not being regulated enough and could become incredibly harmful to the environment.  Due to these possibilities, it is worth studying the environmental impact that London has felt due to the tourism industry.  Therefore, my focus of inquiry will be on the effects of tourism on the environment in and around the city of London.  The goal and expectation of this research is to obtain a better understanding of the relationship among the Thames and other waterways, the pollution of these waterways (and other environmental impacts), and tourism.  This information will be obtained through community engagement and other forms of research such as participant observation.
While in London, I hope to get involved with organizations such as Thames21.  This volunteer organization works towards making the Thames river a safer and cleaner environment for both people and wildlife.  I think spending time working with organizations such as this will give me a better understanding of the state of the UK's waterways (especially the Thames), what has been done to preserve it, and what still needs to be done.  Participant observation is one of the best ways to go about accomplishing this and it will provide me with the local community's perspective.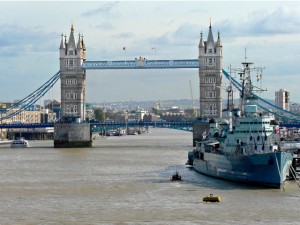 References:
Peeters, P., & Landré, M. (2012).Sustainability (basel, switzerland): The emerging global tourism geographyMDPI Publishing.
Record-breaking number of tourists visit London in 2014 – BBC News. (2015, May 20). BBC News. Retrieved December 9, 2015, from http://www.bbc.com/news/uk-england-london-32812460
United Nations Environment Programme. (n.d.). Retrieved December 9, 2015, from http://www.unep.org/resourceefficiency/Business/SectoralActivities/Tourism/FactsandFiguresaboutTourism/ImpactsofTourism/EnvironmentalImpacts/TourismsThreeMainImpactAreas/tabid/78776/Default.aspx