Wilkommen!
My name is Zach Perry and I'll be studying abroad in Konstanz, Germany during Spring of 2016. I am a Junior at the University of Richmond with a Philosophy Major and a German Studies Minor and a personal concentration on Ethics. I also have background with music being a part of Schola Cantorum (Chamber) and Chouer du Roi (a capella) as well as involvement within the Debate and Forensics team, SCOPE (Queer Student Organization), UR Voices, and several other smaller cultural and social justice initiatives on campus. I also enjoy playing badminton with my "copious amounts of free time". I'm originally from Minnesota but have lived in Chesterfield, Virginia right outside of Richmond for the majority of my life.
This is a log of where the next chapter of my story begins.
Why Germany?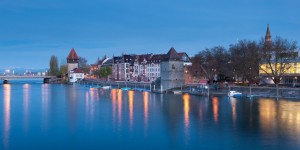 With rich cultural history, personal significance, and a prime example of being an environmental leader, Germany seemed like the perfect place for me to study. The location I will be going is in the Southwestern portion of Germany on the aptly named Lake Konstanz. My primary focus of inquiry will be the public's relationship with the lake as a whole in addition to the relationship it has with the other users of the Rhine in which the lake flows out into. This will include tourism, energy, food, commerce, and transportation. I hope to travel around the area to also gain input from the surrounding areas in Switzerland, France, and Austria as the water systems are so closely interconnected due to Konstanz's central location. Overall, the goal of my project will reflect on how Konstanz's utilization of the water systems surrounding it is greatly incorporated into the community around it instead of merely being an aesthetic aspect to the culture much like that of our lake.
Germany also has an intricate relationship with the global energy scene. While they are an environmentally friendly country, Germany has a lot of influence within the coal industry due to their banking system. This leads to a lot of questions surrounding whether or not Germany is legitimate in its aims to promote a more green world market. Not only this, several human rights violations have been brought to attention with Germany's name associated with it yet information has yet to properly surface in order to hold them accountable.
Community Engagement:
In addition to (hopefully) being involved with music and the international education office abroad, I hope to take an environmental ethics course that compliments my major and concentration. Regardless, I will be doing field work in order to evaluate my surrounds while doing research to understand how and why water is so crucial to the history of German (and, in effect, European) society. The field work will mostly constitute of interviewing people their experience and perspective of "water politics" within their own realm and then asking what their thoughts are about how other countries (namely the US, UK, China, Brazil, Australia and South Africa [trying to cover all of my bases here]) deal with their water and how we can aim to prevent a tremendous pitfall with the impending water and food crisis we have on our hands.
In addition to the more objective nature of how these different societies interact, I am also curious as to how the German people feel about the recent Paris attacks and large influx of Syrian refugees. I have done some research on the topic when applying to Konstanz but having the hands on experience and perspectives of the German people will enable me to properly gauge the severity of the situation within directly impacted areas. Since they do not have any direct service organizations there by the University, I'll try to find ways to independently research how socialized care allows for a more progressive nation-state and ways to bridge gaps in more heterogeneous places.
Fun Tidbit:
It's true! The German langue has some extremely bizarre words. Enjoy these links that describe just how strange the language (and people) can be.
24 Words That Are Better In German
8 Ridiculously Long German Words
While I don't think I'll ever master the language, I'm hoping this experience allows me to immerse myself within the language and culture of a history my family has close ties with. I hope this blog will help to capture all of my experiences leading up to the journey, the experience itself, and the reflection when I come back.
Now it's just a matter of waiting…