---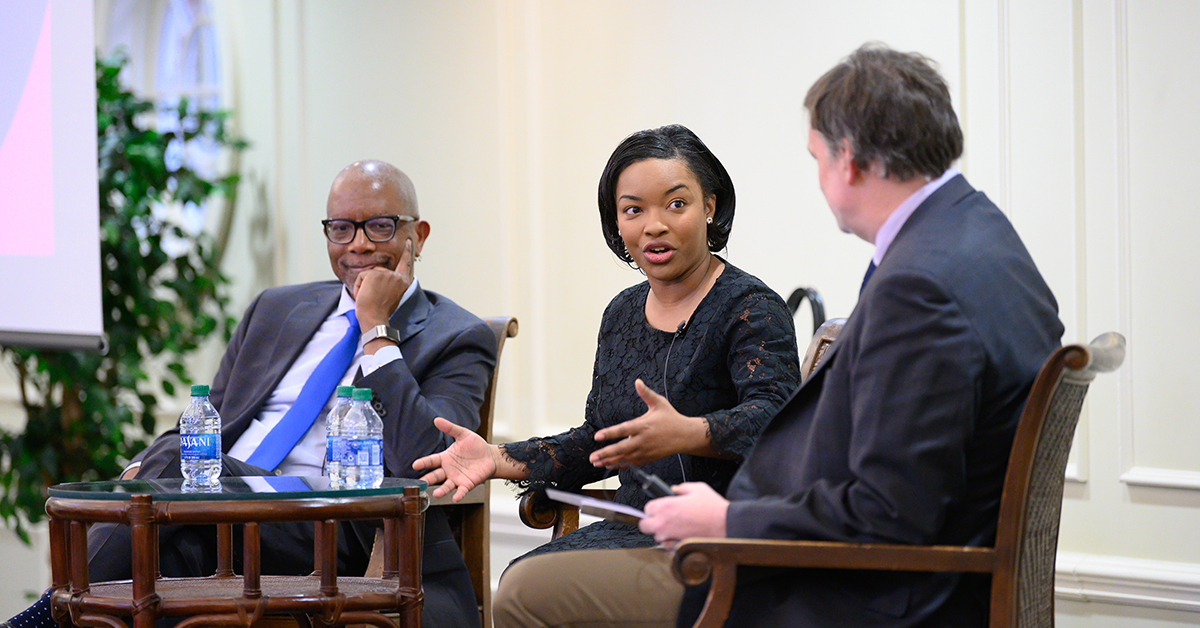 At the Jepson School, we define good leadership as a process of influencing via the give-and-take of discussion, as opposed to the notion of leading by dictating. We introduce students to many influence-building exemplars. Our Leader-in-Residence Program offers students the opportunity to observe, learn from, and connect with experienced leaders.
Each year we invite one or two local, state, and national leaders to play an active role at the School as leaders-in-residence. Leaders-in-residence speak to Jepson classes and make presentations to the Greater Richmond community, sharing their stories, experiences, and leadership initiatives. We have hosted state senators, astronauts, former U.S. attorneys general, and investment company founders, to name a few.
This year, we focused our attention on the power of journalism to effect social change. We deliberately paired well-known local columnist Michael Paul Williams with national correspondent Ayesha Rascoe to create a conversation about how journalists lead by seeking and telling the truth.
Williams, an award-winning columnist for the Richmond Times-Dispatch, tackles some of Richmond's and Virginia's most contentious issues head-on. A White House reporter for National Public Radio, Rascoe covers breaking news and policy developments from Washington and abroad. Williams and Rascoe joined us last week for a public event, "Leading with Truth: Journalism as a Catalyst for Social Change."
The theme of leading as influence emerged early in their one-hour conversation. They spoke eloquently about how they take great care to ensure high ethical standards for truth seeking, even as the news cycle shortens and more and more "news" appears in Twitter feeds. Both journalists stressed that truth seeking via a free press is a key institutional feature without which democracy cannot thrive.
Williams and Rascoe acknowledged that deep challenges lie ahead, as the very notion of truth is under attack and economic pressures and technological innovations have permanently altered the nature of journalism. Williams stressed the need to support local media, while Rascoe remarked that successful leadership in journalism will require adaptation to new audiences  and new forms of influence (e.g., via podcasts instead of print). If the press is to remain at the front lines of democracy, surely they are correct.
Watch the "Leading with Truth" video.
Leading as influence—Michael Paul Williams and Ayesha Rascoe